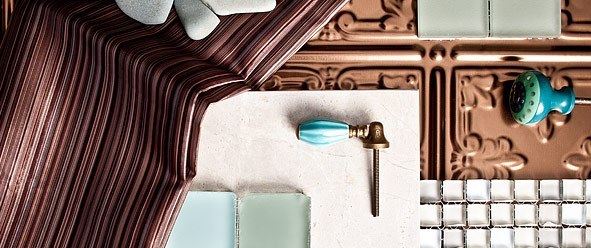 There's no place like home. When you finally return after a long day of work, your home should feel welcoming, inviting and relaxing. But for some people, home can feel more like a jumbled array of acquired goods than a tastefully decorated space. Luckily, it can be easy (and inexpensive) to update your home's look. Follow these interior decorating tips to create a cohesive style for your home.
Choose a focal point for each room
The focal point is the thing that commands your attention and orients you to the space. Architectural structures—like a cozy fireplace or a huge window—or affordable purchases—like a vintage table or bold rug—can set the tone for the entire space.
Create a color scheme
Color has a huge impact on how a space feels: calm, bold, vibrant or playful. Choose paint and fabrics in coordinating colors. A little can go along way—two or three new throw pillow covers for the sofa or a single can of paint can dramatically change a room without dramatically changing your checking account.
Pay attention to lighting
Changing the lighting can actually make a room look remarkably different. Install do-it-yourself track lighting or move lamps to darker corners. Even colored lampshades or softer lightbulbs can help brighten a room at the flip of a switch.
Rearrange—or refurbish—the furniture
Just because that chair in the dining room has always been in the dining room doesn't mean that's the best place for it. Consider new spaces for furniture you've had in place for years. And give upholstered items a fresh look with inexpensive and easy-to-use stretch slipcovers. Sometimes adding some new furniture pieces can make your home feel fresh. Check out this guide to buying furniture on a budget to learn how to improve your decor without breaking the bank.
You work hard to make your house into your home sweet home. Keep it protected. Brand New Belongings® from Nationwide may help pay to replace or repair your covered belongings if they're damaged, destroyed or stolen.
Optional feature. Exclusions and limits apply. Damaged items may be repaired in some cases. Details vary by state and policy language. Please consult your policy for the specifics of your selected coverages. Subject to underwriting guidelines, review, and approval.