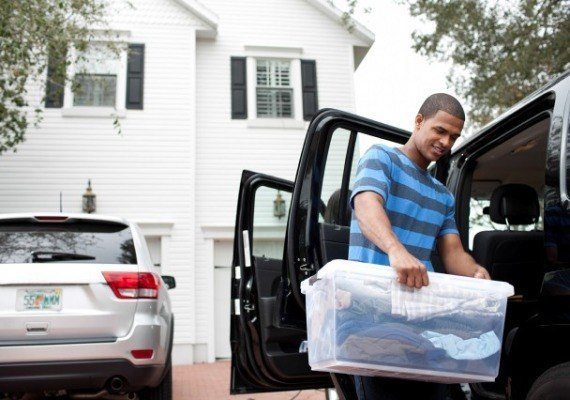 Despite the fact millennials are renting in unprecedented numbers, over half of young adult renters do not have renters insurance, leaving their homes and belongings at risk.
For about the cost of two movie tickets, renters can get the coverage they need to protect their belongings.
Do you really need renters insurance?
Nationwide conducted a national, online survey * of more than 1,000 23-35 year old renters and found that 40 percent of those without renters insurance don't think it's needed at all.
At the same time, 68 percent of all young adult renters say they stand to lose more than an estimated $5,000 worth of belongings should an unfortunate event occur. If you value your belongings, renters insurance is something you should certainly consider. Fire and theft are two of the biggest fears among renters—and some renters even cited a fear a zombie apocalypse. If your belongings are damaged or destroyed in a fire or if they are stolen, renters insurance may help replace your belongings. Two in five renters didn't realize that renters insurance also covers stolen property.
Everyone deserves to unwind after a long week. Like many renters, you may not realize that party mishaps may also be covered by renters insurance. Renters insurance may cover such claims as a broken door, a hole in the drywall, or an injured party guest.
Is renters insurance worth it?
It may be that you're putting renters insurance off because of its cost. Since 2008, Nationwide has paid more than $184 million in renters insurance claims, with an average claim of nearly $4,000.
When you consider that renters share many of the same risks as homeowners, the choice becomes that much easier: renters insurance is worthwhile, and it should be on your radar.
For more information on the renters insurance options Nationwide offers, visit www.nationwide.com or contact your local Nationwide Insurance agent.
Survey Methodology
The national online study was conducted by Harris Interactive on behalf of Nationwide Insurance between February 27 and March 7, 2014. The 1,028 respondents were screened to those who rent their primary residence and are between the ages of 23 and 35. This online survey is not based on a probability sample and therefore no estimate of theoretical sampling error can be calculated.