There's nothing quite like cruising the open road. But when it comes to your mode of transportation, do you see yourself on a motorcycle or a scooter? The two-wheeled vehicle that's best for you depends on a lot of factors.
What's the difference between scooters and motorcycles?
When it comes to scooters vs motorcycles, motorcycles are usually harder to learn to ride but have larger engines and top speeds, while scooters are more fuel efficient, cheaper and have better maneuverability. This makes scooters a good choice for urban commuters.
Before we go into more detail about scooters vs. motorcycles, be sure you get proper driving and safety instruction for whichever vehicle you choose.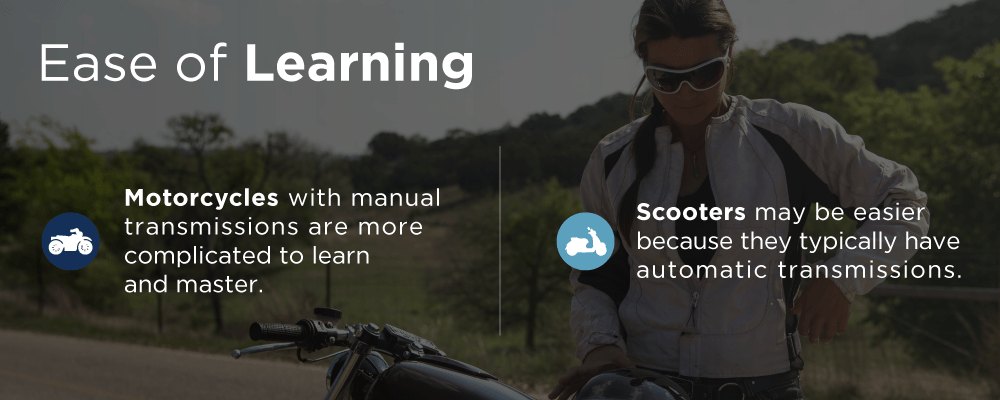 Ease of Learning
Motorcycles with manual transmissions are more complicated to learn and master.
Scooters are easier because they typically have automatic transmissions.
Engine Size
Motorcycle engines range in size from 150cc to over 2,000cc.
Most scooter engines range in size from 50cc to 250cc.
High Speed
Some popular motorcycle models can exceed 110 mph (though motorcyclists should always follow the speed limit).
50cc scooters can hit about 40 mph, while 250cc scooters can get up to 75 mph.
Wheel Stability
A longer wheelbase and larger tires makes motorcycles more stable at higher speeds.
Because scooter tires are small, they're not suited for rough terrain.
Driving on Highways
Motorcycles are permitted on all U.S. highways, although permitted sizes vary.
Scooters are not highway legal in every state.
Fuel Efficiency
Many motorcycles average around 44 mpg; newer models can reach up to 85 mpg.
Scooters are more fuel efficient, with some models averaging up to 132 mpg.
Commute-friendliness
Motorcycles have larger fuel tanks than scooters, which could mean refueling less often.
Scooters are great for city commuters because of their size and maneuverability.
Price Range
New motorcycles can cost as low as $2,650 or as much as $300,000.
Scooters can range in price from a few hundred dollars to several thousand. Luxury scooters can cost $10,000 or more.
Storage Capacity
Motorcycles have little storage, but saddlebags can be easily added for more room.
Most scooters have a large under-seat storage compartment.
Turning and Maneuvering
A motorcycle's longer wheelbase makes it less precise for maneuvering and turning at low speeds.
A scooter's smaller wheelbase makes for better maneuverability and turning.
Rider Safety
Different Styles
The main types of motorcycles are: Standard, Cruiser, Tourer, Sport Bike, Sport Tourer and Dual Sport.
Scooters are typically categorized by engine size ranging from 50cc to 250cc.
Popular Makes and Models
The most popular motorcycle brand in the U.S. is Harley Davidson.
Piaggio continues to be a top selling scooter in the U.S.
U.S. Popularity
Motorcycle are more popular in the U.S.; almost 500,000 were sold last year.
Americans bought more than 33,000 scooters in 2014.
Once you decide on the perfect bike for you, make sure you have the right insurance coverage to go with it. Take a look a Nationwide's motorcycle insurance and scooter insurance coverage options today.