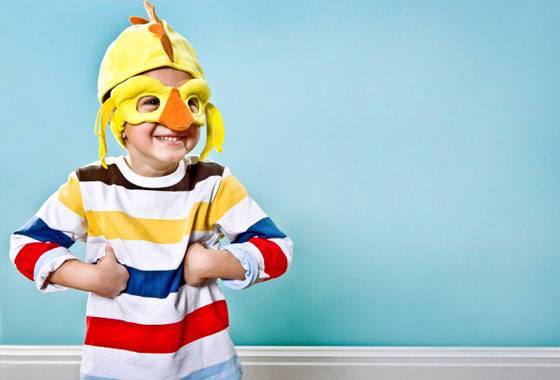 Trick or treating, sweets, costumes – what youngster doesn't get a thrill out of Halloween? Or adult for that matter. Any excuse to eat excessive amounts of candy and dress up as your favorite superhero inevitably makes for a fun-filled day, but with the festivities comes some safety precautions to consider. Before your little one heads out the door – cape and wig intact – keep these safety tips from the American College of Emergency Physicians in mind.
1. Going solo is spooky
An adult should always accompany their little monsters on the trick-or-treating trail – particularly children under 12. If your kids are older and plan to make the rounds with a group of friends, make sure to review their route ahead of time to ensure they stick to familiar areas. Agree on a specific time when they should return home.
2. Hit the runway with reflective gear
The crowded streets and increased activity on Halloween can be unsafe if you're not careful. According to the Centers for Disease Control and Prevention, children are four times more likely to be involved in a fatal pedestrian accident on Halloween than on any other night of the year. Needless to say, it's important to make sure your child is as visible as possible. When selecting a costume, opt for the bright-colored outfits and add a touch of reflective tape to the material. Stick some reflective tape on their trick-or-treat bags as well so they can be easily spotted by motorists. Lastly, don't forget to make sure they're equipped with a flashlight or glow stick – must-have accessories for any costume.
If you will be driving this Halloween, there are some important safety precautions you can take as well.
3. Celebrate with well-fitted costumes
Of course being visible, fashionable and creative is important, but the right fit is just as significant. According to the National Safety Council, falls are the leading cause of injury on Halloween. Here's some advice on keeping your child's ensemble safe and secure:
Prevent accidental tripping or entanglement by making sure costumes aren't too big or long
Avoid masks that block vision, but if your child wears one – it should have large eye, nose and mouth openings
Make sure any Halloween makeup you apply is non-toxic and always test it on a small area first
Remove all makeup before your child goes to bed
Costumes, wigs and accessories should contain a label indicating they are flame resistant
Make sure accessories such as swords, canes, or sticks are not sharp or too long
4. Comb through the candy collection
You should always double as a detective on Halloween and thoroughly inspect your child's candy.  Remember – small, hard candies can be choking hazards for tiny tots so you'll want to remove these treats from their bags. If candy is unwrapped, loosely packaged, or appears to be tampered with – throw it away. Also, be sure to get rid of any homemade items or fruit.
Following these safety tips will help you and your loved ones to have more treats than tricks this holiday – and who doesn't love the treats?
Don't forget to also check out our safe driving tips if you're planning to hit the road this Halloween.