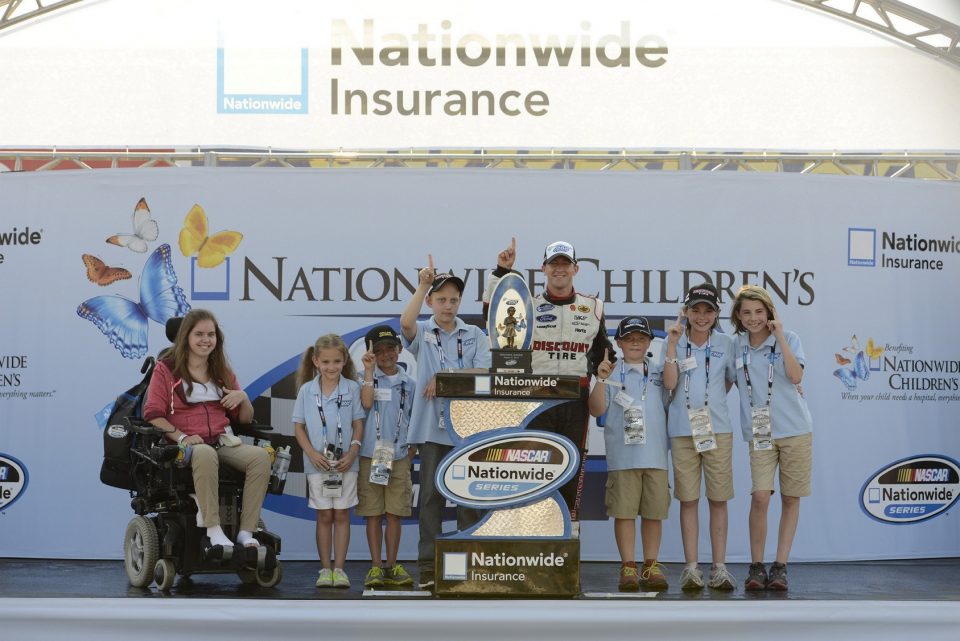 We're thrilled that the 2nd Nationwide Children's Hospital 200 is right around the corner! The NASCAR Nationwide Series event will take place on Aug. 16, 2014 at the Mid-Ohio Sports Car Course – one of the most competitive courses in the country and host to numerous annual races. Some of the biggest names in NASCAR are getting ready to put their skills to the test for more than 200 miles of speed and action – all for an amazing cause.
The race isn't the only event we have to look forward to – the NASCAR haulers parade will take place at 11:30 a.m. on Aug.14, 2014 in downtown Columbus. Race fans will even have the opportunity to see the NASCAR haulers that carry the race cars up close, meet some of their favorite drivers at the conclusion of the parade, and enjoy other interactive displays from local partners. Later in the evening the Columbus Clippers will host a NASCAR Night themed game at Huntington Park.
The champions of Nationwide Children's Hospital
Nationwide Insurance has been the title sponsor of the NASCAR Nationwide Series for six years, allowing us not only to support the sport, but also raise awareness and money for Nationwide Children's Hospital. This year is particularly special, as 10 patients from Nationwide Children's Hospital will be paired with 10 NASCAR drivers as part of the Patient Champion Program. To honor and support the NCH kids, Nationwide Series teams, drivers and sponsors will donate some of the most valuable real estate in the sport – portions of each car's paint schemes.
The individual pairings between the patient champions and the drivers also allow for some quality one-on-one time in the days leading up to the race. NASCAR driver, Ryan Reed, had a great time bonding with his patient champion, Dalton Miller: "Dalton has type 1 diabetes along with me," said Reed, "so we have that in common and so I think it's really cool we get to hang out and just kind of enjoy a nice day here in Ohio."
In addition to spending time with their favorite NASCAR drivers, touring the garages and sitting in the pit boxes, the children are also heavily involved in the car design process for this year's cars and get to help unveil the final products. Get a glimpse of the teamwork and effort that goes into making this day so special for all:
AJ Allemendigger may have won last year, but as for who will take the checkered flag this time around – only time will tell. One thing is for sure, the positivity and happiness the children bring to the race makes them all winners.