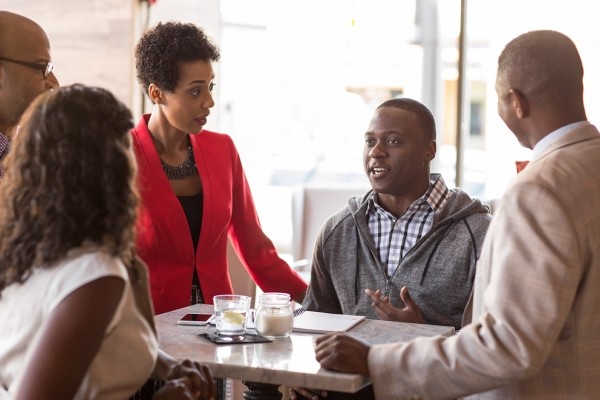 In one way or another, Nationwide has been holding regular Member Connection meetings – the company's unique way of directly connecting with its policyholders – since the company's inception in 1926.
The meetings are an opportunity for Nationwide policyholders to share their thoughts and ideas about their insurance experience with company representatives.
"Nationwide wants to connect with our members on a personal level, giving them the opportunity to provide authentic feedback regarding their experiences, and learn what they want from Nationwide," says Coda Bruce, Nationwide's director of the Chief Customer Advocate office. "No topic is off limits."
What are Member Connection meetings?
The idea had modest beginnings as the Farm Bureau Advisory Council. In these early years, small groups of policyholders met in the living rooms of rural Ohio farm homes. It was a quaint atmosphere, but the spirit of openness born here still lives on in the meetings decades later.
Nowadays, they meet in a comfortable atmosphere in a hotel banquet room or community restaurant, sharing a meal and giving their thoughts on how Nationwide can better help its members. Unlike focus groups, there's no agenda at these Member Connection meetings. Facilitators may ask some introductory questions, but the members decide what they want to talk about, whether it's giving advice on how to communicate better or asking for clarification on what various insurance terms mean.
"What I feel is unique about Nationwide is that we take the time to ask for feedback, and we really listen," says Bruce. "We then do our best to turn that into action for our members."
As a result of feedback from past Member Connection meetings, Nationwide has improved its interactive voice response phone system. When members shared that they received too much paper, Nationwide instituted optional online billing initiatives. Members at one meeting said they wanted to hear from their agent at renewal time, so Nationwide responded by promoting agent/policyholder reviews.
Who goes to the meetings?
Nationwide works with its regional partners to organize meetings. Currently, Nationwide members who live within a 15-mile radius of the meeting site and who have an email address on file will be invited to that meeting.
The meetings are intimate, with between 25 and 50 people attending. Nationwide generally holds 10 to 15 meetings a year across the country.
Other opportunities to share feedback
Nationwide founder Murray Lincoln believed it was important to hear what members wanted because Nationwide wasn't founded to make money; it was founded to fill a need. In Nationwide's early years, farmers couldn't get what we now know as insurance. Instead, they joined together, pooling money that would be paid out when one of the farmers suffered a loss. Eventually, this group became Nationwide, with wider insurance coverage such as property and casualty insurance, but it continued its dedication to the specific needs of members.
While only select Nationwide members have participated in the Member Connection meetings, there are now many other ways to be heard and to get questions answered. Nationwide agents are always available to policyholders. But Nationwide is listening through other means.
For example, the company has been an early social media participant – its eight-year-old internal collaboration platform, SPOT, is widely viewed as an industry standard – and this active listening is a part of Nationwide's continuous improvement efforts.
Not all members get a chance to participate in Member Connections meetings, but Nationwide wants to hear from policyholders.
"We're always looking to improve. No one can tell us what our members want better than our members," Bruce says.
Find a Nationwide Member Connection Meeting near you today. To share your thoughts, experiences or questions, contact the Chief Customer Advocate's office online or by phone at (800) 882-2822.