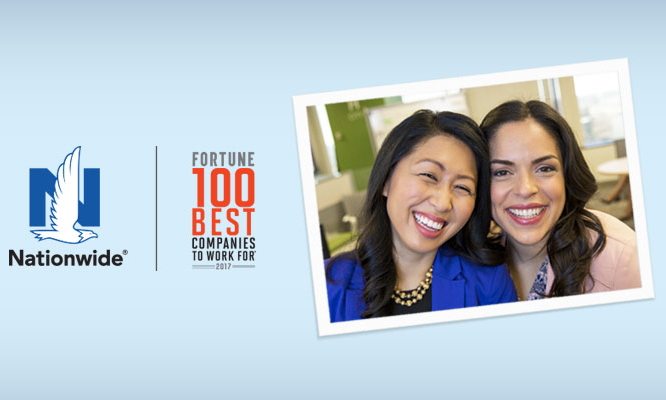 For the third consecutive year, Nationwide has been named to Fortune's "100 Best Companies to Work For" list. Nationwide ranked 54th on the annual survey that serves as the national benchmark for rating companies that deliver high performance while creating an outstanding and supportive corporate culture.
"At the heart of our company are Nationwide's values and our ability to work together to serve our members, communities and each other," said Steve Rasmussen, CEO for Nationwide. "That's why we could not be more proud to be named among Fortune's "Best Companies to Work For."
Nationwide promotes a culture that provides meaningful and engaging growth opportunities for associates across the organization. The company continuously evolves its approach to provide associates with innovative talent development strategies, as well as comprehensive health, well-being and retirement benefits and resources to meet their individual needs.
"Congratulations to Nationwide on the 2017 Best," said Michael C. Bush, CEO of Great Place to Work. "Leading companies, like Nationwide, are at the forefront of developing the full potential of all their employees. They are working to build Great Places to Work for all, which is better for business, better for people and better for the world."
Fortune's recognition follows other local and national honors Nationwide has received in the past year recognizing the company's dedication to its members, its commitment to diversity, the breadth of career opportunities and the numerous programs and resources available to associates. This includes being recognized as one of Fortune's World's Most Admired Companies, by Gallup for five consecutive years with the Great Workplace Award, receiving a 100 percent rating on the Human Rights Campaign's Corporate Equality Index for 13 consecutive years and many other top workplace awards.