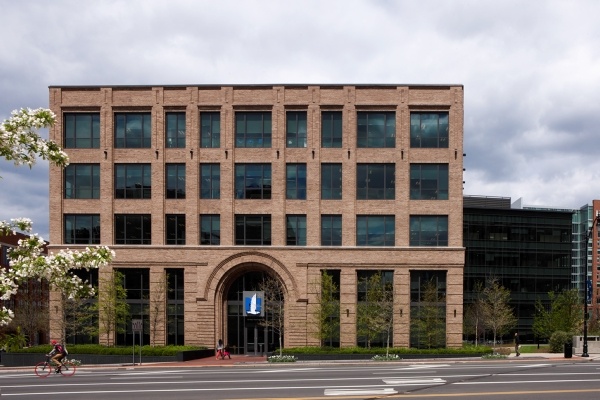 Nationwide's retirement plans business marked a year of success in 2017, ending the year with more than $132 billion in assets under management. These strong results were driven by record sales of $12.2 billion that contained several large case acquisitions, including the cities of Seattle and Philadelphia, as well as the consolidation of the Des Moines plan from nine providers to only Nationwide.
During this time of growth, Nationwide answered more than one million calls from participants while providing industry-leading service. For the fourth year, DALBAR, the leading independent expert on the customer/client experience in the financial services industry, honored Nationwide with three awards for outstanding customer service to its retirement plan clients.
Nationwide also received recognition for its marketing and education efforts. The Maryland Supplemental Retirement plan received a Pensions & Investments Eddy Award for best practices in education and communication. And, Nationwide was named a Genius Award finalist by the Association of National Advertisers (ANA) in the analytics category for its Participant Engagement Program. The Genius Award recognizes outstanding achievement in leveraging marketing analytics to drive business outcomes. The Nationwide marketing team demonstrated how they leveraged data and analytics to meet consumer needs by using personalized content, messaging and education experiences to help America's workers prepare for and live in retirement.
John Carter, president of Nationwide retirement plans, discussed the firm's growth strategy with Noah Zuss at Fund Action. The Fund Action article is published below with the permission of the publisher.
Nationwide's 401(k) business grows as advisors go up market
By Noah Zuss
September 2017
The retirement business at Nationwide Financial is gaining traction in the 401(k) market, although the firm has historically specialized in 457 government sector plans. With that said, the firm is still focused on growing its 457 business through consolidation and winning new mandates, John Carter, president of Nationwide retirement plans, told FA.
Beyond government
This year, Nationwide's corporate 401(k) plan growth is up 10%, a faster growth rate than its 457 plan business, Carter said. "Last year's growth was led by the 457 market and this year it's led by the private sector with the 401(k) market," he noted.
Carter declined to share specific AUM numbers, beyond noting Nationwide's overall asset growth rate in 2016 for both its 401(k) and 457 plans was 16.9%.
Nationwide's growth in the 401(k) space stems from the firm's continued focus on winning larger plan mandates, as well as winning new business from plan sponsors changing recordkeepers, Carter added.
Key to this success is the firm's efforts to target retirement-focused advisers and consultants that have moved upmarket to serve larger plans, Carter said. This broad shift was also captured in Fidelity Investments' annual Plan Sponsor Attitudes Survey, which shows that the Department of Labor's fiduciary rule and increased scrutiny around fiduciary duties, in general, have caused plan sponsors to flock to advisers specializing in retirement.
G-Guys
Though Nationwide is garnering more 401(k) business, the government sector remains a focus, Carter noted. For example, last year Nationwide added the $1bn Seattle plan and the $1.1 bn Philadelphia plan to its roster. The firm also consolidated nine plans from the city of Des Moines, Iowa, into a single plan.
Consolidating a sponsor's DC plans allows Nationwide to grow its business by capturing assets that would otherwise go to another recordkeeper. This also simplifies the investment options for employees, Carter explained.
"Plans are consolidating their providers to Nationwide, versus a participant having three or four or five, or in some cases, nine plan providers that are available to them," he said "Now, they're thinking 'well, if we have one provider that was the partner both on the plan level and engaging the participant we could probably be more effective for our workers.'"
An inside look
Nationwide personnel support the firm's $112bn in assets, 37,000 plans and 2.5m participants.
The retirement business is led by Carter. Co-equal to him is Nationwide's head of defined contribution investments business, Michael Spangler, president of Nationwide Funds.
The firm's recordkeeping platform provides access to 1,300 investment options across all fund types, including seven target-date fund families and managed accounts.
"Our strategy is a little bit different than some firms that might have proprietary funds and really only have their fund company as an option," Carter said. "We're more strategic in the options that we provide. We're a big believer in advised choice."
Also on the executive team supporting Carter are Eric Stevenson, vice president of retirement plan sales; Jeff Stein, vice president of operations; Hutch Schafer, vice president of business development; Kristi Rodriguez, vice president of marketing; Kevin Devine, vice president of advisor-sold retirement plans and Kevin McGarry, associate vice president of the Nationwide Retirement Institute.
Additionally, the retirement business employs 52 external wholesalers, 50 internal wholesalers, 48 client relationship managers, 26 field service representatives and 300 retirement specialists and expects to add to those numbers.
"We are investing in that team as we speak," Carter added.