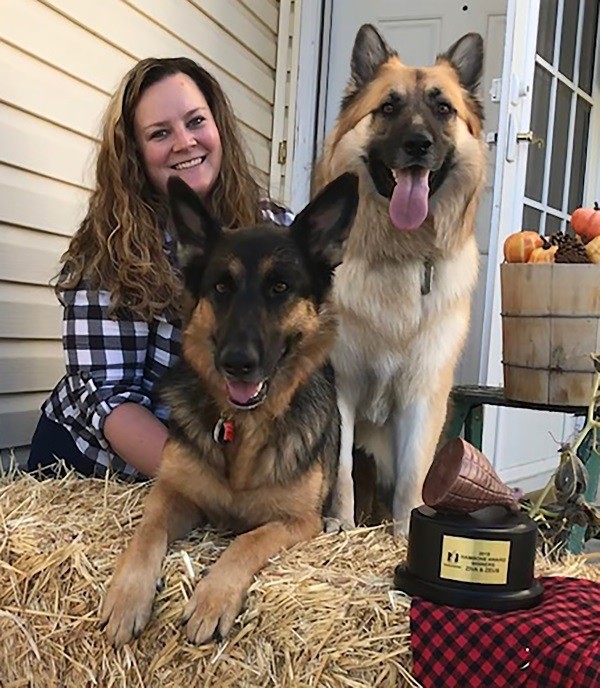 Ziva and Zeus, a pair of German Shepherds from Medical Lake, Washington, are the 2018 recipients of the 10th annual Hambone Award®, honoring the most unusual pet insurance claim of the year. Ziva and Zeus were among 12 nominees for the Hambone Award after they went missing for 21 days and were found inside an abandoned missile silo. The story of their life saving rescue and miraculous recovery earned Ziva and Zeus the winning honor after thousands of votes were cast via a public vote at HamboneAward.com. The Hambone Award is presented by Nationwide, the nation's first and largest provider of pet health insurance.
Ziva and Zeus were treated by the veterinary team at Pet Emergency Clinic and Referral Center in Spokane, Washington where the dogs received life-saving care. For their outstanding work, the Pet Emergency Clinic and Referral Center will be granted a $10,000 Nationwide-funded award through the Veterinary Care Foundation (VCF) to help treat pets in their community whose owners could otherwise not afford veterinary care. One hundred percent of all donations from VCF are used to treat pets, with no contributions used for administration or overhead.
To learn more about Ziva and Zeus's harrowing escapade that earned them the Hambone Award, go to Ziva and Zeus's story.
Since the incident, Ziva and Zeus have made full recoveries. Jessica is thankful for the care she received from the veterinary team and the pet insurance support she received from Nationwide.
"The staff at Pet Emergency Clinic treated Ziva and Zeus with so much care and were so thoughtful with them," said Jessica. "Having pet insurance saved our bank account and let us focus on getting our dogs better rather than stressing about the bills."
As the 2018 Hambone Award winners, Ziva and Zeus will receive the coveted bronze Hambone Award Trophy, as well as a Nationwide gift bag filled with toys, treats and various pet supplies.