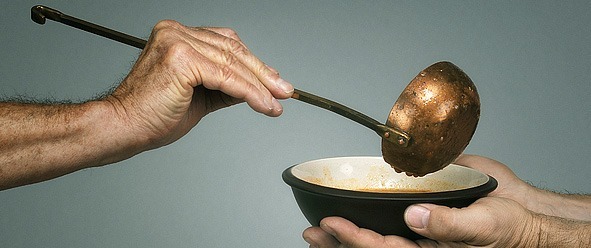 Nationwide and Feeding America work to fight hunger.
When a group of associates in Nationwide Insurance's Mid-Atlantic Regional Operation (MARO) set out to help area food banks fill their empty shelves, they didn't know what they were getting themselves into—or how much their work would pay off.
Since last year, volunteers from the region's Associate Advisory Committee had been commenting that there wasn't always enough inventory at the food banks to fill the demand. So they decided to do something about it.
Approximately 1,300 associates, 111 Nationwide exclusive agents and Allied agents participated
in a four-state food drive, which benefitted nine different Feeding America member food banks in
the region.
The result? A month-long food drive that garnered nearly 50,000 pounds of food that translated into 38,462 meals for people in need.
Agent Mark Smith Sr., from Stafford, Va., collected food one weekend in front of a local
grocery store.
"We greeted each customer coming by giving them a list of items needed at the food bank," says Smith. "People then came out with food to donate. We put it in a grocery basket and then into a van that we filled by the end of the day."
In just two days, his agency collected nearly 2,000 pounds of food.
"It showed customers and community neighbors that Nationwide does care," Smith remarked. "It is not all about insurance; it is about people."
About Feeding America
Nationwide associates support Feeding America through participation in food drives, monetary donations and volunteer efforts at local member food banks. Last year, Nationwide volunteered more than 8,000 hours with hunger-relief organizations and donated more than 1.7 million meals to Feeding America member food banks. The MARO campaign is Nationwide's first region-wide food drive.
"Nationwide's employees continue to demonstrate their extraordinary commitment to feeding people facing hunger," says Matt Knott, interim president and CEO of Feeding America. "We are grateful for their efforts and for Nationwide's ongoing commitment to helping us feeding millions of families in need."
You can support hunger-relief efforts in your community. Visit feedingamerica.org.