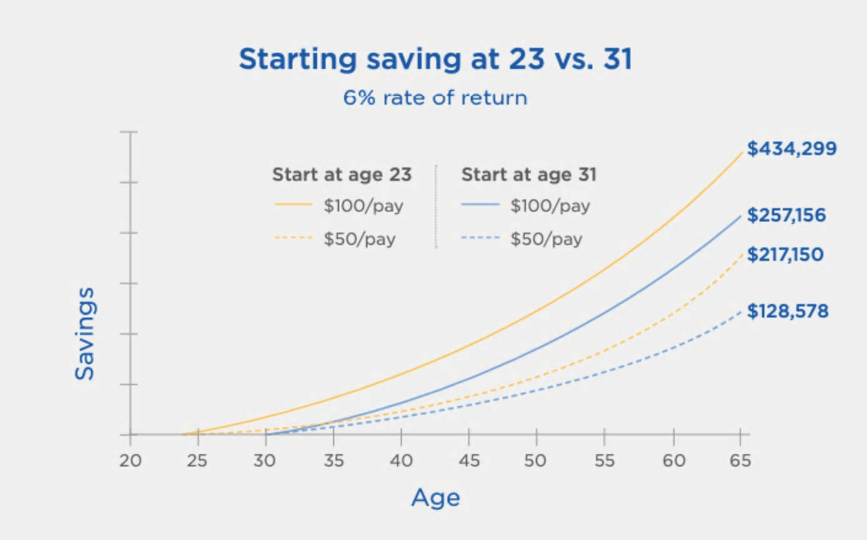 America's Retirement Voice is a new research report that examines issues affecting retirement security and reveals the average age workers begin saving for retirement is 31.1 It's based on insights from the retirement saving behaviors of the nearly 2.5 million defined contribution (DC) plan participants Nationwide serves.2
"While age 31 seems relatively young to think about retirement, it means most employees are missing out on nearly a decade of savings, asset accumulation and the associated potential for compound returns," said John Carter, president of retirement plans for Nationwide.
Workers have plenty of reasons for delaying retirement savings, but in doing so they sacrifice more than $175,000 in retirement savings. 3  Given the amount of money at stake, it's worth taking a look at what obstacles stand in the way of saving for retirement.
What Prevents Savings?
Nationwide commissioned a survey conducted online by The Harris Poll among more than 1,100 employed Americans which revealed 76 percent state something has prevented them from to contributing as much as they wanted to their retirement plan.
Employed survey respondents cited three main factors preventing them from saving the amount they wanted for retirement: not making enough money (44 percent), daily expenses (41 percent) and paying off debt (38 percent).
Yet, when asked at what age a person should start saving for retirement, 35 percent of employed Americans say it is between age 25 and 30, while 42 percent noted between age 18 and 24.
"America's workers understand the importance of saving for retirement and those that have access to workplace retirement plans value them. However, many could benefit from guidance on how to prioritize retirement savings while managing their day-to-day financial needs and financial goals like paying off debt," noted Carter. "We've seen more engagement and positive behaviors from younger workers over the years, but many still wait when it comes to retirement until their other financial goals are met."
Balancing Retirement Savings and Debt
In starting a new career, many are focused on getting rid of their student loan debt as soon as possible often by paying more than the minimum payment. Some will go even farther. In a study by MyBankTracker, 30 percent of Millennials said they would sell an organ if it meant clearing their student loan debt completely.4
Managing debt can feel overwhelming, and many view paying off debt and saving for retirement in a linear fashion, paying off student loans first, then saving for retirement once that goal is accomplished.
However, it's important to consider if long-term financial goals are better served by paying off debt over a longer period of time. For example, consider someone who is paying $500 a month on a 10-year, $35,000 student loan that charges 6 percent annualized interest. The terms of the loan require a minimum payment of $390. By repaying $55 more than the minimum each month, he or she will save $10,594 in interest and cut the payoff period by 1.80 years.
And by contributing that additional $55 per pay ($110 per month) to a retirement account he or she can potentially accumulate $16,267 for retirement over the 10-year period, assuming a 6 percent investment return and no employer match. Please keep in mind that investing involves market risk, including possible loss of principal.
"While it's difficult to juggle multiple financial priorities, taking a long look at everything together and working with a financial professional to develop a written financial plan makes it easier to effectively reach all of one's goals," added Carter.
America's Retirement Voice: "Smart Financial Moves In Your 20s and 30s" provides additional data, scenarios and insights as well as tips on saving for retirement. It can be viewed here.
Harris Survey Methodology
This survey was conducted online within the United States by The Harris Poll on behalf of Nationwide from November 6-8, 2018, among 2,012 U.S. adults ages 18 and older, among whom 1,161 are currently employed. This online survey is not based on a probability sample and therefore no estimate of theoretical sampling error can be calculated. For complete survey methodology, including weighting variables and subgroup sample sizes, please contact Tracie Patten at pattet5@nationwide.com.
[1] Nationwide Participant Solutions Research Study (2017).
[2] Nationwide Retirement Plan Scorecard (October 2018).
[3] America's Retirement Voice: "Smart Financial Moves In Your 20s and 30s" Nationwide (Nov. 2018).
[4] "How Far Would You Goto Get Rid of Your Student Debt?", MyBankTracker (July 2018).
PNM-15365AO