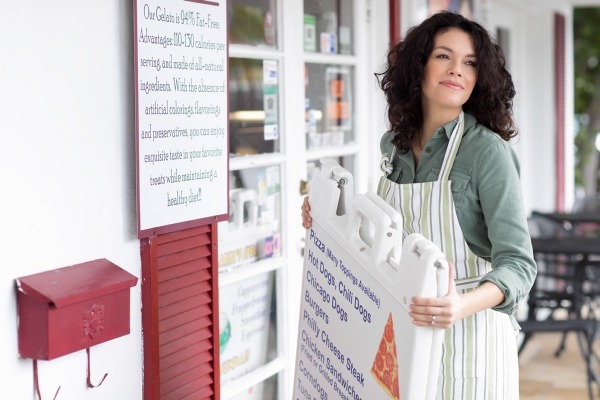 Most business owners say it's important to plan for the future or unexpected events — especially when it comes to cyberattacks, natural disasters and succession.
But a new Nationwide survey found that the vast majority of owners don't have formal plans in place, even as catastrophic weather events continue to rise and ransomware attacks become more common.
"Business owners are the backbone of our economy," said Mark Berven, president of property and casualty for Nationwide, the No. 1 total small-business insurer[1] in the country. "But they can often believe the myth that 'it could never happen to me.' That's why it's crucial business owners remain prepared. Whether it's planning for leadership succession or enduring an unexpected event like a cyberattack, the viability of businesses across the country is a requirement for a healthy economy that we can't ignore."
Don't be caught off guard
Nationwide's third annual survey of more than 1,000 business owners across the country with 1-299 employees revealed some alarming discrepancies in how business owners think versus how they behave in three main categories:
Cyberattacks: 83 percent of owners report that they believe it's important to establish security practices and policies recommended by the U.S. Small Business Administration (SBA) to protect sensitive information, but only 50 percent say they have established security practices to protect sensitive information.
Disasters: 64 percent of owners say it's important to create a preparedness program as recommended by the SBA, yet only 23 percent report that they have created one.
Succession: 65 percent of owners report that they believe it's important to choose a successor for their business as recommended by the SBA, even though only 37 percent actually have a business succession plan in place.

While many business owners are not prepared for the risks they face, two exceptions stood out.
Millennials are more likely than Baby Boomers or Gen Xers to say it's important to create a business succession plan (38 percent) and build disaster preparedness kits (35 percent). They say they are also more confident in securing a financial future (82 percent).
African-American business owners are more likely than Hispanic or Caucasian owners to say they have a plan in place to protect employee data (56 percent), a disaster recovery plan (46 percent) and a cyber-attack response plan (41 percent). They also report that they are more confident in securing a financial future (86 percent).
Secure your business' future
To help business owners prepare and protect their businesses for the future, Nationwide recently launched the Business Solutions Center, a new online suite of solutions that can support them during key stages of development.
The site is designed to help owners identify a wide variety of needs. It also links users to other sources of information that support entrepreneurs, including Nationwide's team of Loss Control Services consultants.
Business owners can also learn how to create a cybersecurity plan, disaster plan and succession plan through the Small Business Administration.
Methodology
Nationwide commissioned a 20-minute, online survey among a sample of 1,069 U.S. small business owners. Small business owners are defined as having between 1-299 employees, 18 years or older, and self-reported being a sole or partial owner of their business. The margin of error for this sample is +/-3% at the 95% confidence level. Conducted by Edelman Intelligence, a full-service consumer research firm, the survey was fielded between May 16-24, 2017. As a member of CASRO in good standing, Edelman Intelligence conducts all research in accordance with Market Research Standards and Guidelines.
[1] Conning, 2014; Conning Strategic Study: The Small Business Sector for Property-Casualty Insurance: Market Shift Coming.