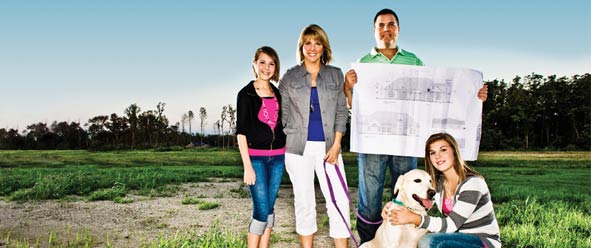 Nationwide helps an Ohio couple recover from a devastating tornado
When they first heard word of the possible tornado, Todd and Stacy Taylor's initial reaction was to ignore it. The Millbury, Ohio, couple had grown used to the sound of the town's fire alarm signaling the arrival of a dangerous funnel, but had rarely gone down to the basement as suggested; few advance warnings preceded an actual emergency, in their experience. But on the evening of June 5, 2010, things would be different.
The Taylor's had been enjoying an evening at home; their daughters—Logan, 15, and Jordyn, 13— were out with friends. On the local news, there were signs that a tornado was brewing, but nothing definitive. Then, when the hail began to lash the back of the house and the electricity flickered, Stacy sensed that something was wrong.
The Tornado's Fury

"I don't know what warned us," she recalls. "Maybe it was the hail, but not only did we go down into the basement this time, I even cleared a spot under the stairs. All through school, they'd tell you that you were safer there."
Within minutes of Todd, Stacy, daughter Jordyn (who had been next door at a party) and dog Molly's descent into the basement, the tornado struck, demolishing most of their house and completely destroying many neighbors' homes. Five people, including neighbors two doors down from the Taylor's, perished in the funnel's seven-mile path.
After the winds subsided and the family contacted their other daughter to check on her safety, they emerged from the basement to survey the damage. The tail end of the funnel cloud had punched a hole through the north side of their home, reducing their living room, master bedroom and bathroom to splinters.
But, says Todd, "We could walk out of our basement and into our home. Some of our neighbors crawled out of a hole into nothing but rubble."

Starting Over

After gathering their wits, the Taylor's contacted their Nationwide agent, Ken Miller. He immediately put them in contact with large loss property adjuster Don Iten, who met the Taylor's within an hour of their phone conversation. The building inspector had deemed their home a total loss, but Don brought in American Builders to board up the house and protect it from looting.
"He then brought in Wolverine Restoration, who boxed everything up and packaged it for us—they even laundered our clothes and brought it all to my mom's house," says Stacy.
Don also secured a demolition company to bring down the remains of the Taylor's home, provided them with a representative to handle the loss of Todd's car and provided the lease papers and rental furniture when they found a nearby house for rent. "Don did a lot of things that we couldn't even think about," Todd notes.
Now that they've moved into their rebuilt home, the Taylor's say that they've taken a new attitude towards storm warnings—which they've continued to experience in the months after their disaster. "We take it a lot more seriously," says Todd.
They've also spoken with other families who lost their homes in the tornado. "We've heard some horror stories," Todd says. "A neighbor said his insurance company told him that his house structure wasn't worth what it once was because of the economy, and my cousin, who was affected as well, had someone who nitpicked the damage down to the smallest detail."
The Taylor's remain grateful to Don Iten for making the transition from tragedy to normalcy as fast and easy as possible. "When you're trying to rebuild your life, you don't need added pressure," Todd says. "Don never questioned anything."
We're There for You Talk to your agent or call 1-877-On Your Side® to find out whether your homeowners insurance covers catastrophic damage.