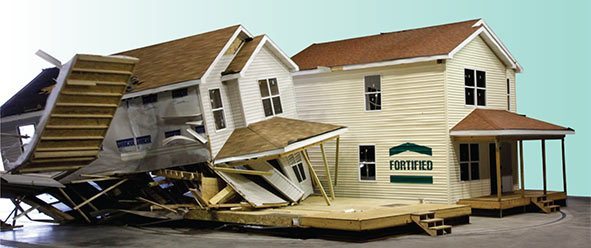 To protect your home, this house is subjected to the worst Mother Nature offers.
Tucked away in Chester County, South Carolina, there's a charming two-story house waiting to be assaulted by Category 1, 2 and 3 force winds; thousands of gallons of rain; hail storms; or possibly a wildfire. Find that hard to believe? Wait until you hear the price tag: $40 million.
Built by the Institute for Business & Home Safety (IBHS), the house (and those that will replace it) is part of a simulator program. Inside a massive warehouse and with the help of 105 300-horsepower fans and a massive 750,000-gallon water tank, the IBHS subjects houses to the worst Mother Nature can offer.
After each assault, the house is carefully examined for damage. Using their findings, researchers are able to determine which construction elements hold up best under the most extreme weather and natural disaster conditions. From window- and doorframes to roofing materials and siding, every aspect of the structure is evaluated. The IBHS findings are then shared with manufacturers, trade groups, and other researchers and research organizations to improve building methods and home safety.