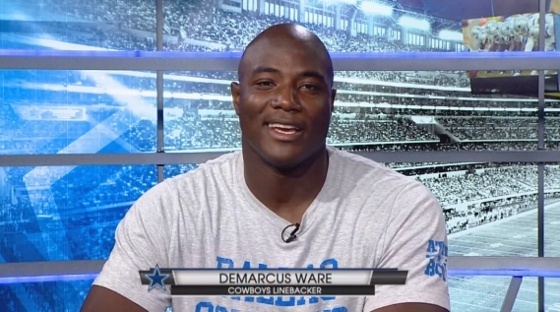 Two first-class organizations joined forces today as the Dallas Cowboys and Nationwide Insurance announced a new partnership. "This partnership provides us with a unique opportunity to show Cowboys fans nationally how we deliver on the Nationwide On Your Side promise by helping them protect what's most important in their lives," said Matt Jauchius, Nationwide chief marketing officer. "Similar to the Cowboys quest to be first in everything they do, we at Nationwide Insurance are committed to putting our members first in all that we do." Nationwide Insurance has also signed DeMarcus Ware, one of the most dominating defensive players in the National Football League (NFL), to a three-year personal services agreement. Here's Ware's take on the new Cowboys partnership, and on being a member of "the Nationwide Insurance team."
To celebrate the new partnership with fans, Nationwide Insurance will be giving away two DeMarcus Ware-signed items through its Twitter account (@Nationwide) this week—a "Join the Nation" pin flag on Wednesday and a No. 94 jersey on Saturday.
You could win a @demarcusware signed #JoinTheNation flag! Tweet us your favorite DeMarcus Ware game moment! on.fb.me/12lUprc — Nationwide (@Nationwide) June 12, 2013
"I've spent my entire professional career trying to break through protection," said DeMarcus Ware, seven-time NFL Pro-Bowler. "Now I'm looking forward to reversing that role by helping Cowboys fans understand how they can better protect the things that matter most to them through Nationwide Insurance." For the latest Nationwide news, visit Nationwide.com, "Like" us on Facebook or "Follow" us on Twitter.