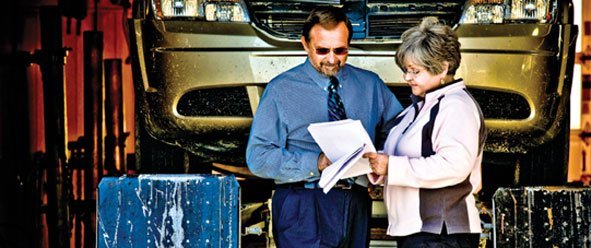 The staff at Knoxville Collision Center lends a special touch with Nationwide Blue Ribbon® service.
Over the last several years, Rod Kuhn says he's probably seen a thousand "Support Our Troops" yellow ribbons on the highway and on crumpled fenders in his garage, Knoxville Collision Center, a Nationwide Blue Ribbon® Repair Service (BRRS) facility in Knoxville, Tennessee.
Although the changing seasons have sometimes faded the bumper stickers' words, they are always fresh in his mind. So when chances to offer that support cropped up, Kuhn and his staff took them, helping out a soldier's wife and a young serviceman whose car troubles were anything but ordinary.
Serving on the Home Front
With her husband deployed to Iraq, a soldier's wife couldn't help shedding a few tears as she discussed the rear-end damage to the couple's 2007 Isuzu Ascender. "It was just one more thing she had to handle," Kuhn says. "Then I told her about AutoWatch, and that she and her husband could watch the repair from beginning to end."
This online tool from Nationwide makes it possible for customers of participating shops to watch the progress of car repairs through digital photos posted on the Web. They can even ask the mechanic questions on the interactive site. "It takes away the fear people have about getting their car repaired," says Mari Mundt, the couple's claims agent.
But his wife's car wasn't all the soldier—keeping tabs on the repairs from overseas—saw when he logged in. The Knoxville Collision Center crew surprised him with a big sign thanking him for his service.
"That cemented the relationship," Kuhn says. "His wife went from being very doubtful to being comfortable. And when she came to pick up the car, she was thrilled."
Beyond the Call of Duty
When a car accident outside Knoxville threatened an 18-year-old Army recruit's ability to report for duty on time at Fort Riley, Kansas, he was pleased to get a referral to Kuhn's shop from Bob Lee, Nationwide senior claims representative.
Knoxville Collision Center, like all BRRS facilities, has been reviewed and approved by Nationwide. To gain that endorsement, shops must provide customers a thorough appraisal of the damage to their vehicle, an easy-to-understand explanation of repair options, a detailed explanation of charges and a complete and precise vehicle repair. In turn, Nationwide provides a written guarantee for labor and alternative parts on all covered repairs made at BRRS shops for as long as the customer owns or leases the covered vehicle.
That guarantee of a quality repair reassured the young recruit, and he hopped a bus to Fort Riley, reporting as scheduled. But, Kuhn explains, hiring a carrier to get the Jeep to Kansas after the repair would have cost $3,000 or more, "And we knew he didn't have that kind of money."
So one weekend, Kuhn and his wife loaded the brand-new-looking 2007 Jeep Wrangler onto a trailer and towed it the 15 hours to Fort Riley, only charging its owner for fuel. They'll never forget the gratitude in the young man's eyes. "He loved it," Kuhn says.
Throughout the 19 years Knoxville Collision Center has been in business, every day is a blue-ribbon-service day. It's all part of Kuhn's customer service philosophy. "We focus on people," Kuhn says. "We listen to their circumstances. We want to do everything we can to make their car repair a positive experience."
Lori K. Baker is a Phoenix-based writer specializing in true-life dramas and health. Her work has appeared in Family Circle, Ladies' Home Journal, Glamour and Parenting.