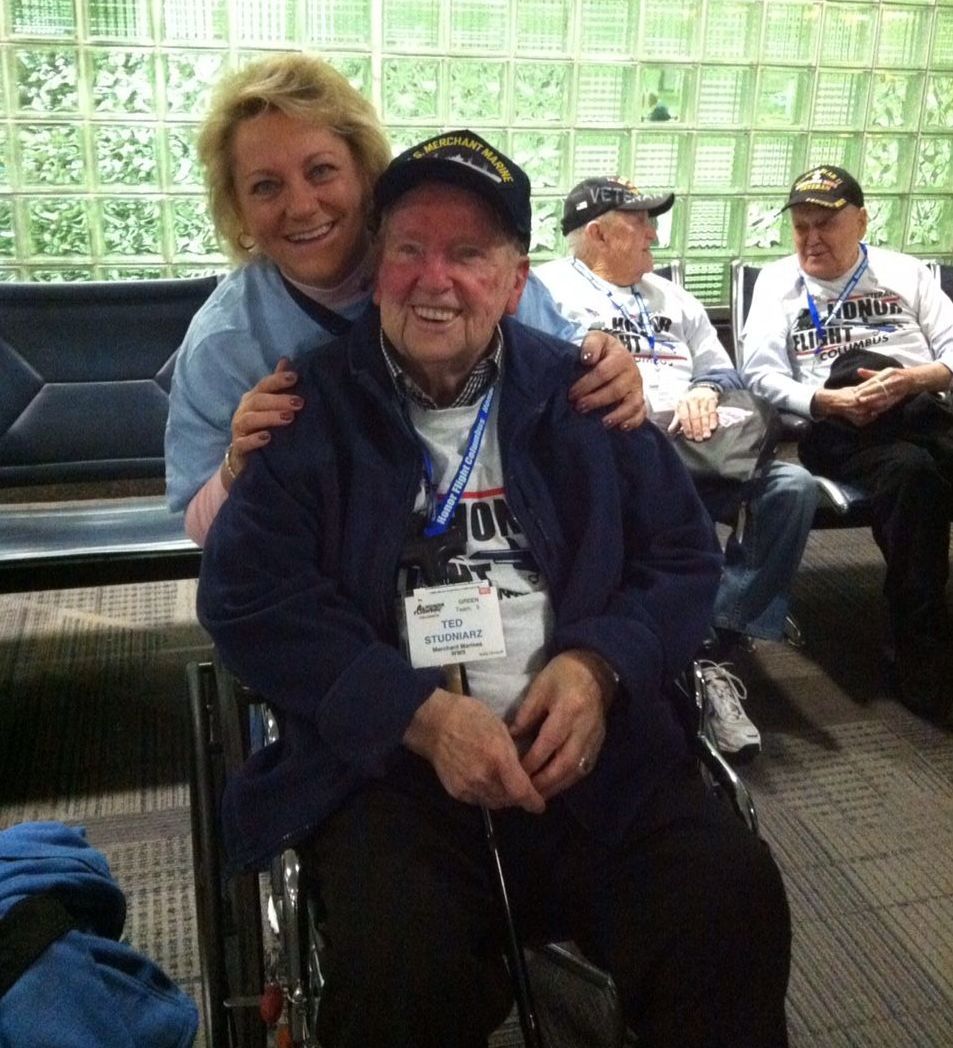 On Oct. 11, a group of 76 World War II, Korean War and Vietnam War veterans reported for duty—a trip to Washington, D.C. on the Honor Flight. It was a special trip for everyone, especially for one veteran—World War II Merchant Marine, Seaman First Class Ted "Teddy" Studniarz.
Honor Flight Network, an all-volunteer organization, takes veterans on a trip to the memorials dedicated to their honor in Washington D.C.  Since 2007, Honor Flight Columbus has made 66 trips to the nation's capital honoring 3,679 veterans. Nationwide recently helped increase that number by sponsoring a flight in October.
Studniarz, 89, a Cleveland, Ohio native, joined the Merchant Marines in 1944 and had tours in the Pacific and Atlantic that took him around the world. He had never been to Washington, D.C., so when his daughter, Anita Orndorff, suggested he apply for Honor Flight, he agreed.
"My dad was extremely excited for the trip," Orndorff said. "He called me and said, 'I just got my call. I'm on the flight. They accepted me on the flight!'"
Guardians accompany the veterans on the Honor Flight to ensure they have a safe and memorable experience. Studniarz was paired up with his daughter.
"He was very proud to be able to make this trip with me," Orndorff said.
On the morning of the flight, Studniarz arrived at the airport wearing his favorite hat—one he wore wherever he went that said 'Merchant U.S. Marine Veteran' across the front.
Studniarz, who's known for his love of jokes, poems and music, was so excited for the trip that he wrote a poem to commemorate the occasion.
(Excerpt below)
Over the years, I've written 300 poems
Something for every occasion,
Lots are funny and it's not for the money
The ham that I am needs little persuasion.
I'll say in advance, if by chance
You'll notice I'm as high as a kite,
'Cuz I am blessed to be a special guest of
The Nationwide Honor Flight.
The flight lasted an hour, followed by a 45-minute drive from the airport to the National Mall. Studniarz spent the time trading stories and memories of his service with the other veterans.
"When you make people laugh like my dad does, people are drawn to you," Orndorff said.
Studniarz told stories about the pranks he played on his fellow shipmates while they were out to sea—including throwing dirty water onto whoever had the misfortune of walking on the deck below.
And once Studniarz, whose parents were from Poland, realized another veteran also spoke Polish, they serenaded the bus by singing in Polish—songs they claim were a bit off color, but no one else knew for certain.
Once in Washington D.C., a police escort led the three buses of veterans around the city, including stops at:
World War II, Korean War and Vietnam War memorials
Arlington Cemetery
Marine and Air Force memorials
The Air Force memorial was Studniarz's favorite stop because the engineering of the stainless steel arcs amazed him.
At one of the stops, the veterans gathered for a group photo, which the pair accidentally missed.
"We were on the other side of the monument, and one brake was stuck on his wheelchair. When I pushed the chair, we kept going in circles," Orndorff said.
My dad said, 'I feel like I'm in a rowboat and both of us are paddling on the same side.' We laughed like we were kids. We lost track of time as we enjoyed the special moment."
On the drive back to the airport, the veterans were treated to a mail call filled with letters from family members and others thanking them for their service. Studniarz received 60 cards and letters and read through them with his daughter.
"We had a wonderful time, and were still quite 'in the moment' over it," Orndorff said.
Around 10 p.m., the Honor Flight landed in Columbus, where hundreds of people had gathered to welcome the heroes home.
"My dad didn't think his service was important. He said he did what he had to do," Orndorff said. "The response the veterans received was overwhelming. My father was so impressed by how many people wanted to shake his hand and thank him for his service."
The next day, Orndorff drove her father home where friends and family lined his street to welcome him.
"This was truly a trip of a lifetime," Orndorff said. "The volunteers are absolutely amazing. The amount of work that goes into the planning of every segment of these trips is beyond description."
Sadly, Studniarz died unexpectedly two weeks after his trip on the Honor Flight. Orndorff is grateful she was able to spend that memorable day in Washington with her father.
"Thank you to Honor Flight for organizing this trip for our cherished veterans. And thank you to Nationwide for providing this amazing opportunity," Orndorff said. "The memories of the Honor Flight will remain with me for a lifetime."
Orndorff and her siblings donated to Honor Flight in their father's memory.
"Honor Flight is more important than any of us recognize," she said. "This is the ultimate opportunity to pay it forward for another veteran to have this experience."
Honor Flight
The U.S. Veterans Administration estimates only 1 million World War II veterans remain and time to express gratitude for their service is running out. Learn how you can support the Honor Flight Network.