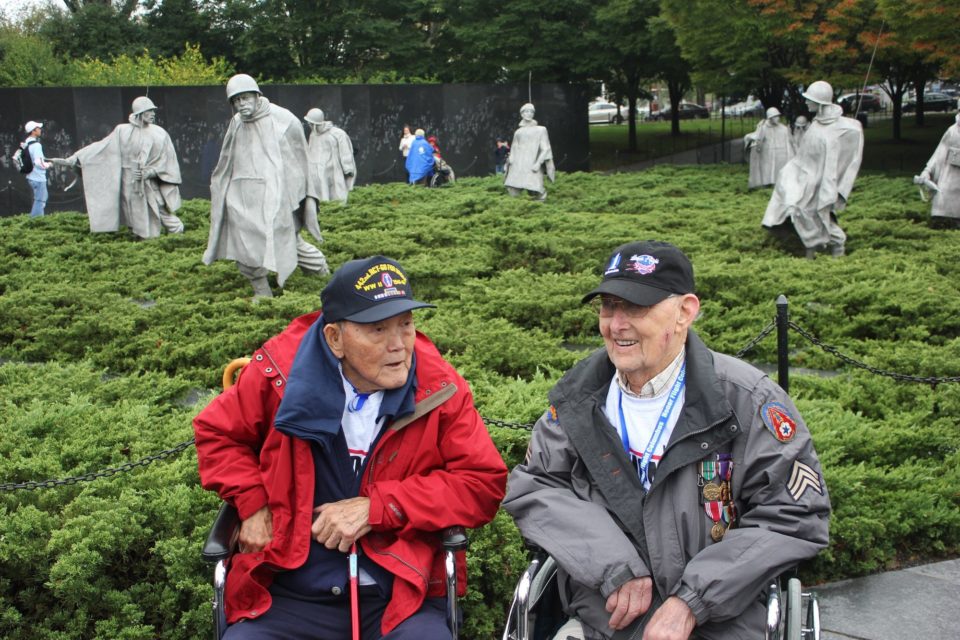 Helping U.S. veterans have the opportunity to visit the memorials in Washington, D.C. free of charge is the mission of Honor Flight, a national nonprofit organization. Recently, 76 veterans from World War II, the Korean War and the Vietnam War took the flight.
Assisting with the effort were more than 50 Nationwide associates who volunteered as guardians and ground crew members for the Nationwide-sponsored Honor Flight in Columbus, Ohio.
"My dad spent 41 years in the Army and fought in WWII, Korea and Vietnam," said Mark Pizzi, president and chief operating officer of Nationwide Direct and Member Solutions. "He contributed to the Memorial the veterans will see, but he never saw it. So every time we do this, I know he is — or I choose to believe he is — watching it through their eyes."
While in Washington D.C., the veterans had the opportunity to visit:
World War II, Korean War and Vietnam War memorials
Arlington National Cemetery
Marine and Air Force memorials
At 10 p.m., the Honor Flight landed at Port Columbus International Airport, where hundreds of people gathered to welcome our heroes home.
Here are some photos from the trip.
Read more about one of the World War II veterans who took this trip.
Working for Nationwide
For those who serve in various branches of the military today, Nationwide has made a commitment to supporting the important work they do while employed, to recruiting veterans, and to helping ease their transition to civilian life.
Visit our Veterans Careers page to search for job opportunities for veterans.