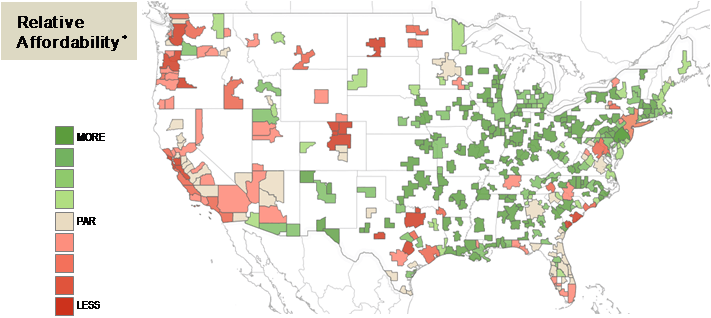 David W. Berson, SVP & Chief Economist, Nationwide Mutual Insurance Company
Ben Ayers, Senior Economist, Nationwide Mutual Insurance Company
Boosted by solid job gains, strong household formations, and low mortgage rates, the U.S. housing market is finally a source of growth for the economy again. Amid rising homebuyer demand and a still tight supply of homes on the market, house price gains are picking up across the country – up 6.4 percent over the past year nationally in the CoreLogic House Price Index as of September. Concern about a house price bubble in the current price environment, however, is premature as relative housing affordability remains high in the majority of local housing markets. According to Nationwide's most recent Health of Housing Markets (HoHM) Report, the housing markets in nearly all of the 400 metropolitan statistical areas (MSAs) are healthy and should continue to see sustainable expansion over the next year. One of the key components used to determine overall housing market health within the HoHM Report is relative housing affordability, defined as the house price to income ratio for each MSA relative to its long-term average.
In the long run, growth in house prices should correspond closely to income growth in order to keep housing costs in line with a homebuyer's ability to pay. Too rapid house price appreciation relative to income over an extended period can drive potential homebuyers out of the market – particularly younger and first-time homebuyers. Lower affordability is also indicative of higher debt-to-income ratios for consumers, reducing their willingness to spend now.
In over three-quarters of the MSAs analyzed in the HoHM Report, relative affordability is at a healthy level – in some cases much more affordable currently than their long-term average (shown as green in the chart below). Regionally, nearly all of the MSAs within the Midwest as well as most MSAs in the Southeast and Northeast are rated as more affordable with little concern of a local house price bubble. Current house price gains in these regions are aligned with historical averages and trends in real income growth. The factors that are driving affordability higher (strong income growth and sustainable house prices) are generally indicative of a healthier housing market.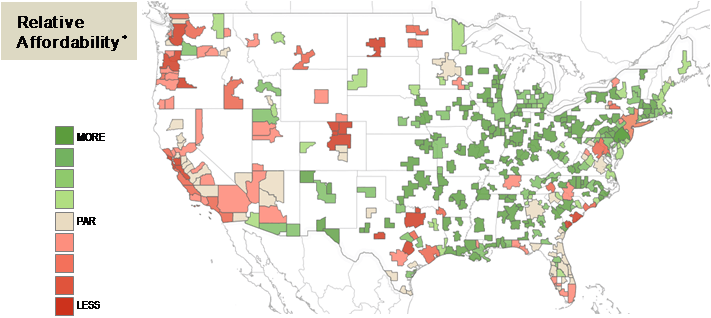 * Defined as the house price to income ratio for each MSA relative to its long-term average
On the flip side, there are pockets of the country where the trends in relative housing affordability are concerning, encompassing nearly a quarter of the markets in the HoHM Report. House price gains in many of these MSAs have been stronger than average for several years – a cumulative effect that has lowered affordability to an unhealthy level. The local housing markets have been running very hot (i.e., rapid house price increases), driven by above-average population growth and rapid job gains. These effects are particularly pronounced in the larger cities where demand for rental and owner-occupied properties is very high. Areas where relative housing affordability is most concerning include:
Pacific Coast: San Francisco, San Jose, Anaheim, Los Angeles, Portland, and Seattle
Colorado: Denver, Boulder, and Fort Collins
Texas: Dallas, Austin, and Houston
Atlantic Coast: Hilton Head Island, Charleston, and Myrtle Beach
Trends in housing affordability correlate strongly with overall housing market health, but are not the whole story. A less affordable housing market does not guarantee that an MSA will be deemed to be unhealthy, as other positive fundamentals of housing demand may outweigh the drag from lower affordability. In larger markets that are overheating from a house price viewpoint (i.e., Houston, Denver, and San Francisco), strong trends in job growth and demographics can offset lower affordability in the HoHM calculations – resulting in a slightly positive or neutral overall ranking for an MSA. Conversely, an MSA with a poor underlying economy and labor market is likely to be more affordable, but could be viewed as unhealthy due to weaker housing fundamentals. Despite boasting one of the most affordable price environment's in the country, Houma-Thibodaux, Louisiana, ranks among the ten least sustainable housing markets in the HoHM Report.
The current figures suggest that relative housing affordability remains high in most MSAs and there is little evidence of a widespread house price bubble. The areas that are less affordable, although a growing concern, constitute a minority of the housing markets across the country. It is important to remember that affordability by itself is not indicative of a healthy or unhealthy local housing market, but it is a key component of maintaining sustainable trends in housing sector growth.
To see the HoHM Report for the fourth quarter of 2015 visit blog.nationwide.com/housing/ on or after Dec. 15.
NFW-5684AO