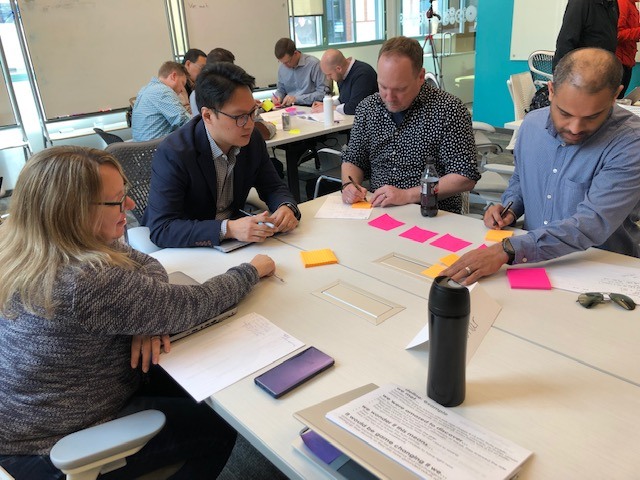 Diversity matters in innovation. It's one of those things everybody says, but what does it mean? How does it encourage innovation? How do we cultivate it?
What is diversity?
At Nationwide, we value people. So, we know that building diverse teams is the right thing to do. The added benefit is that diversity enables better outcomes in innovation.
At Nationwide, we define diversity as the unique characteristics of each associate – including ethnicity, race, religion, gender, gender identity, sexual orientation, age, nationality, disability, veteran status, as well as many other differences such as thinking styles, personalities and work experience.  We seek out and support individuals who reflect the unique experiences and backgrounds of all our potential customers. That means valuing multiple types of diversity on our teams:
Demographic diversity: Demographic diversity is one part of building a diverse team. Bringing people together with different experiences and backgrounds is critical. I'm especially proud of the decades of great work Nationwide has devoted to diversity and inclusion. Our efforts to create a diverse company have earned wide recognition like the Catalyst Award for advancing women in the workplace and Fortune's 100 Best Companies for Diversity, among others. Attracting, retaining and creating conditions for all associates to thrive continues to be a major focus for us.
Diversity of thought: Innovation isn't just about ideas. It's also about the implementation of ideas. To get a wide range of great ideas and ways to implement them, we also strive to bring in people who think differently from each other. We need big-picture thinkers and some who think about the details. We need people from within our industry and those from outside of it. We need those who naturally think more broadly and those who think more narrowly in scope.
Diversity of action: Finally, we need people who behave differently from one another. Obviously, we want the idea-oriented people (who often are viewed as the only innovator stereotype), but we can't stop there. We also need process-oriented people, who create and follow innovation methodologies, enabling us to repeat great work. We need action-oriented people to drive things forward. We need "people persons," especially in a user-driven (or design thinking) approach to innovation. They're the ones who can get to know users/customers deeply and be mindful and supportive of their team members along the way.
Why is diversity critical to innovation?
I already mentioned that diversity enables better outcomes. That's because no single person has all the right answers or even all of the right questions to ask. You need a team; and a diverse team is even better equipped to identify the right problems to solve and the right ways to solve them through innovation. A diverse team brings different perspectives—drawing on their varied experiences, types of thinking and natural ways of behaving—to attack problems, generate great ideas and find ways to execute on them.
How do you cultivate diversity?
I've asked many innovation leaders this very question over the years. And while it seems important for everyone and a key topic of discussion for many, I have yet to hear diversity used as an intentional design component of creating an innovation organization…
…yet that's exactly what Nationwide is doing.
It starts with organizational design. Innovation happens at the intersection of the user, the business and technology. So, we've created our early explore and design teams to reflect that. We have User Experience (UX) designers and UX researchers who own the user, or "desirability," of an innovation. We have business leads who own the business, or "viability." And we have Technology Leads who own the technology, or "feasibility," of an innovation. Finally, we have Team Leaders and Consultants who own all three, successfully bringing them together. I'll admit that I borrowed heavily from how world-class design thinking consulting firm IDEO sets up their project teams, but I've also found it's easier said than done!
Next, we bring our approach to cultivating diversity to our recruiting and teams. Beyond looking for the skills we need in specific roles, we also think about creating the right "diversity of thought" and "diversity of action" on the team where we're adding the role. For example, if the team is very action and process-oriented, we look for people-oriented and idea-oriented people to balance it out.
However, attracting a diverse team of qualified associates isn't enough. You must make sure diversity can thrive in your organization. We focus a lot on helping teams navigate the inherent challenges diversity brings: valuing differences, creating an environment where people feel safe sharing their different perspectives and finding healthy ways to resolve conflicts. Our goal is to create comfortable conditions for diverse groups of people to impact our thinking and influence our eventual outcomes.
It's an exciting work in progress
As Nationwide approaches its centennial in 2026, our innovation team is reimagining the types of protection we can offer our members. We're doing that by exploring new ways to meet their evolving needs in areas like mobility, living comfortably in retirement and protecting their digital assets. It's an exciting journey and one that requires us to continue to prioritize cultivating, attracting and supporting all forms of diversity. It's a big part of how we'll ensure we'll be here to support members for the next 100 years.
Want to learn more about what it's like to be part of this great team? Watch this short video to hear from innovation team members in their own words.
If you're interested in joining us on our adventure, review and apply to our open Innovation positions here. Go to Browse Jobs and search Innovation and you'll see Team Leads, Consultants, Researchers, Designers, Business Leads, and many more!