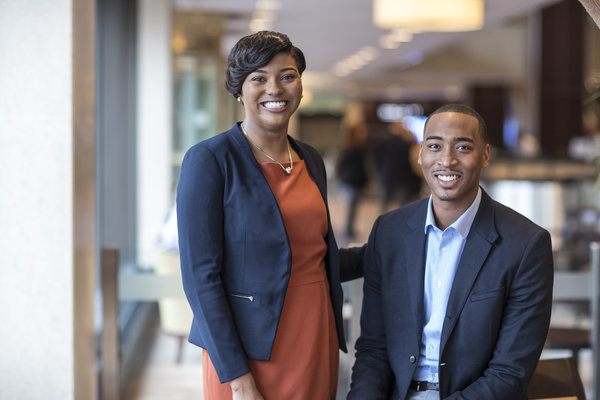 When Tia Barrett and Kyle Brown stepped through Nationwide's doors on the first day of their summer internships, they instantly felt at home.
Both Winston-Salem State University alums had already received full-time job offers at other companies — but after talking to Nationwide representatives at the CIAA career expo, they chose Nationwide instead.
"It just felt like the right choice," says Barrett, who was Miss CIAA in 2016. "Nationwide's culture really hit home for me."
Nationwide associates truly care about doing what's right — for each other, their members and the community — whether it's helping members rebuild after a storm, rolling up their sleeves to donate blood or lending a helping hand to a coworker, she says.
Barrett, a psychology major, and Brown, a political science major and student body president, landed their internships in business consulting where they were quickly given assignments and projects that contributed to Nationwide's success.
"The business transformation office gave me a big, broad picture of what Nationwide looks like and how you can be successful no matter where you go," Brown says. "The internship helped refine the skills that I needed coming into a large corporation, but it also taught me how to think critically and solve difficult problems."
During their 12-week internships, Barrett and Brown had the opportunity meet other interns from all over the country, participate in volunteering opportunities and network with associates and leaders at all levels of the organization.
"Networking was encouraged from the start," Barrett says. "Everyone I met was friendly and encouraged my career development. I really felt like I belonged here."
By the end of the summer, Barrett and Brown accepted full-time job offers at Nationwide when their internships ended. A year later, they say they're enjoying their careers. Barrett works as an analyst in Internal Audit, and Brown is a senior analyst in the Internet business consulting department and actively participates in Nationwide's Gen Y Associate Resource Group for young professionals.
It all started with Nationwide's nine-year partnership with the Central Intercollegiate Athletic Association (CIAA). In addition to hiring numerous interns and full time associates from CIAA schools, Nationwide has contributed funds to the CIAA's general scholarship fund to help students earn their degrees.
"I didn't know a lot about Nationwide before meeting them at the CIAA career fair," Barrett says. "It opened up my eyes a lot after speaking with them. Nationwide has a lot to offer career-wise. It's much more than an insurance and financial services company."
Nationwide recruits interns for a variety of career paths including IT, actuary, finance, internal audit, legal, marketing and sales from CIAA schools and other universities across the United States.
"If you're a college student looking for an internship, you should definitely want to join Nationwide," Barrett says. "It's not only prestigious to work for a Fortune 100 company, it's a great experience, too. People here really care about you; they're supportive of you and your career development and growth."
To learn more, visit nationwide.com/CIAA
Nationwide, the Nationwide N and Eagle, and Nationwide is on your side are service marks of Nationwide Mutual Insurance Company. © 2017 Nationwide CPC-0477AO (12/17)