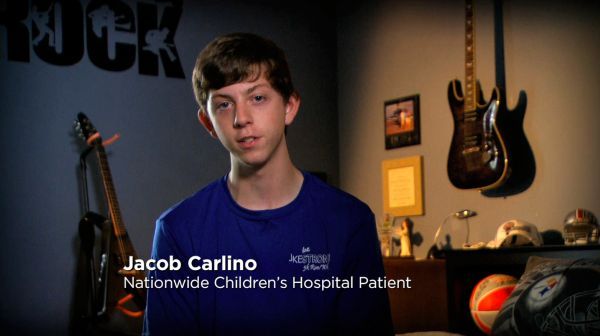 It's kids like Jacob Carlino that make us most proud to be a sponsor of the 2014 Memorial Tournament. Although our goal is to raise awareness and money for Nationwide Children's Hospital, the story of Jacob's courage and determination is what the Memorial Tournament is all about.
An uphill battle
At 12 years old, Jacob was playing the guitar, one of his favorite hobbies, before his life took a dramatic turn. He was diagnosed with a rare form of cancer called Ewing's Sarcoma. The life-threatening disease attacked his lower hip. It would require 30 weeks of intense chemotherapy, a lengthy surgery to remove the mass, another 15 weeks of chemotherapy, and numerous blood and platelet transfusions. With the right side of his pelvis removed, Jacob learned that he would probably never run again. The doctors also told him that it would take a year of physical therapy to re-learn how to walk.
To Jacob, that was simply too long. Not only was he walking within 2 months, but he was running within 6 months—giving hope to countless children fighting for their lives.
Defying the odds
Jacob is now 16, cancer free and is playing his guitar again. Certainly, the doctors, nurses and therapists helped Jacob take control of his life. But it was his will power and unstoppable attitude that made him exceed all expectations.
With the latest research opportunities and leading care professionals, Nationwide Children's Hospital is providing top care for children worldwide – including a winner named Jacob Carlino.
Learn more about the partnership between Nationwide Insurance and the Memorial Tournament and how they work to support the Nationwide Children's Hospital.