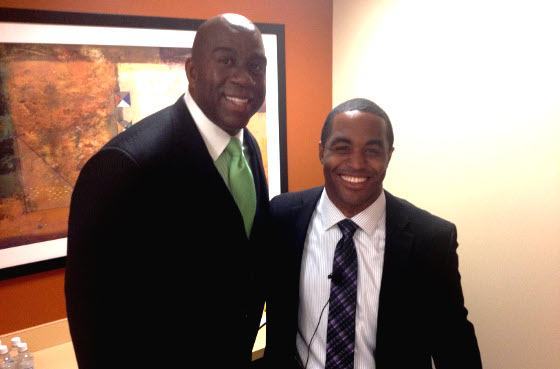 Earvin "Magic" Johnson, 53, talked easily with NBC4's Matt Barnes last Wednesday in Nationwide's green room as he waited to speak to associates as part of the Black Enterprise Entrepreneurs Conference + Expo hosted by Nationwide in Columbus, Ohio, this year. Just behind the green room wall was the Nationwide security guard tasked with escorting Magic—the guard was sticking his phone out from behind a wall, trying to grab a photo that others had a chance to take. Magic, in all his 6 foot, 9-inch glory, saw the guard's attempts and quickly fixed the situation.
"Come here," Magic waved to the security guard. The guard, surprised at the motion, moved quickly and handed off his phone to another Nationwide associate.
"You're lookin' out for me—I have time to take a photo with you," said Magic as the security guard stood tall for his photo.
And that's how it went the whole day as Magic moved from one room of Nationwide to another, stopping to talk to the associates who lined up nearly 3 hours early to hear him speak. He shook hands with anyone who offered and stood proud for any photo snapped, while making conversation with even the youngest of fans.
Magic never asked for anything special—just some water, please, and he traveled lightly with just his brother at his side. Magic's brother commented that this was how Magic was with everyone—always kind. Always willing to stop and say hello to anyone who came out to see him.
At a press conference Magic joined Columbus Mayor Michael B. Coleman and Nationwide leaders to speak to several local media outlets announcing the start of the conference. Magic shared a few words with the Mayor behind the press curtains and took a few photos with local Columbus leaders. His smile never waned and his ability to make people smile was always on point as he headed over to the Black Enterprise Entrepreneurs Conference + Expo.
To kick off the Black Enterprise Entrepreneurs Conference + Expo, Magic addressed a crowd of 1,500 attendees in a Fireside Chat hosted by Nationwide. He provided insights about being an entrepreneur and business owner.
Nationwide was lucky to have Magic speak to its associates and his time was greatly appreciated by all.