For those who, like me, are concerned about the dearth of financial knowledge among young adults, there is some good news that also represents an opportunity for those financial professionals who can speak to millennials in their own language.
First, let me share the good news. In a new investor behavior study commissioned by the Nationwide Retirement Institute and conducted by Harris Poll, almost two-thirds (64 percent) of investors in the millennial demographic (18 to 35 years old), which currently makes up about 31 percent of the U.S. population, say they have a financial plan.
While we still have a long way to go in terms of achieving a system of universal financial education, at least many younger people are thinking about their future and are aware of the very real possibility that they will be responsible for financing their post-retirement lifestyles themselves. But, having a plan for the future is meaningless if that plan is not put into practice.  In the same survey more than two-thirds of millennials indicated they are saving only half of what they think they should be putting away for retirement.
Unlike previous generations who operated from the belief that as long as they had Social Security or their jobs would provide a pension there was nothing to worry about, millennials know their retirement is going to be costly. On average, millennials believe they will need about $110,000 per year to live comfortably in retirement, considerably more than what current retirees (approximately $71,000 annually) and pre-retirees (about $69,000 per year) say.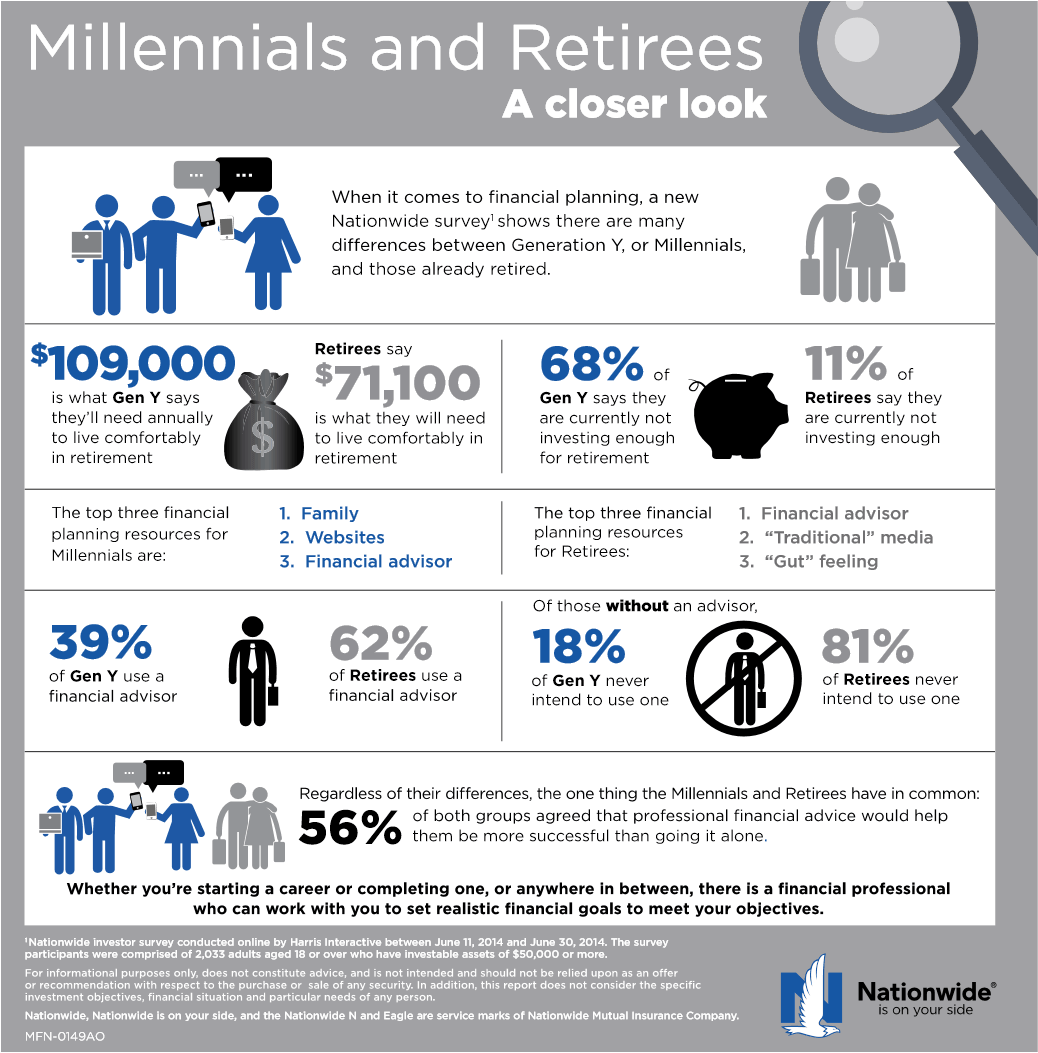 The responses to our survey from investors in this age group indicate they would benefit greatly from professional counsel. When millennials need financial advice the first place they turn is to family, followed closely by websites. On a general level this outreach may be helpful, but it is unlikely to give them all the information they really need to make informed decisions and construct an achievable blueprint for the future.
Add to that the significant number of millennials without a financial plan, either because they find the prospect of creating one overwhelming (28 percent) or because "they haven't gotten around to it yet" (40 percent), and there is a tremendous opportunity for financial professionals to help this generation when it comes to their financial security.
Any financial plan is important, but that plan also has to be realistic and achievable. A plan based on guesswork and wishful thinking is not much better than having no plan at all. A financial professional has the knowledge and experience to evaluate a client's life plan and help them account for major life events, as well as offer valuable insights to help the client avoid missed opportunities. Most importantly, a financial professional can work with the investor to create a personal plan that reflects that individual's unique situation.
The Nationwide survey found that 56 percent of millennials believe they would achieve greater financial success if they had professional advice, but only 39 percent actually use a financial professional. That represents a tremendous opportunity to work with younger investors who know they need help to develop a financial plan that allows them to balance the demands of paying for today and investing for their future.
Investors of any age can learn more about with these investment resources.
MFW-0380AO