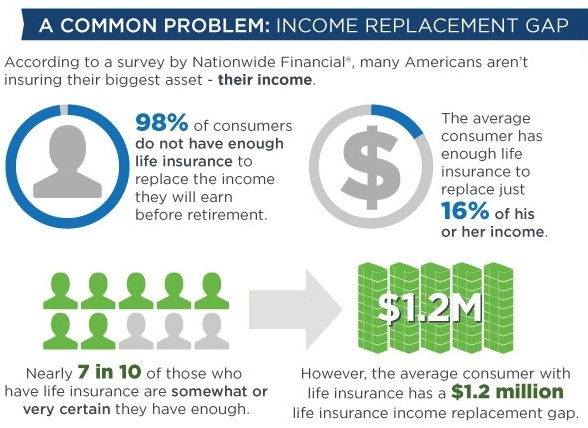 Too many Americans make the mistake of assuming that simply providing what may appear to be a large lump sum of money for their beneficiaries will be enough to protect them. Instead, they should think about how much of their income the insurance money will replace. If it doesn't replace a high percentage of it, their family faces the risk of financial disruption or a reduced standard of living.
The reality is that most Americans are not even in the right ball park when it comes to having enough life insurance.
According to a survey by Nationwide Financial,98 percent of consumers who are married, partnered or have dependents, lack enough life insurance coverage to replace their income.1 The average consumer surveyed will earn approximately $1.5 million before they retire and currently holds about $300,000 in life insurance coverage, leaving them about $1.2 million short of replacing their income with life insurance. It's simple math, and it doesn't add up for 49 out of 50 of those we surveyed.
Do the simple math
Our survey shows that the average life insurance policy currently replaces just 16 percent of the income the insured person will earn before retirement. That's despite the fact that one-third of the consumers we surveyed said their most important consideration when purchasing life insurance was replacing their income.
The good news is that an affordable solution may be available for consumers of nearly all stripes. Consumers surveyed said they are willing to pay $99 per month on average to ensure their family can maintain its standard of living indefinitely following the death of a bread winner.
That may be enough to solve, or at least put a major dent in this problem for many consumers.
For $99, a healthy 35-year-old man can purchase a 20-year term life policy worth more than $2.3 million.2
A healthy 35-year-old woman can purchase more than $2.6 million in coverage.2
Understanding the true cost of life insurance
A $1.2 million income replacement gap could deal a devastating blow to surviving family members when you consider late life expenses such as college, weddings, retirement, health care and long-term care.
A lack of understanding of the true cost of life insurance may be part of the reason for the widespread passiveness of consumers. Less than three in ten (29 percent) of those we surveyed believe they can afford enough life insurance to replace their household income. However, according to LIMRA, consumers generally overestimate the cost of life insurance by nearly three times.3
Another problem is overconfidence. Two-thirds (66 percent) of those with life insurance that we surveyed are somewhat or very certain they have enough to replace the income they or their spouse/partner would generate for the remainder of their working career. This stands in contrast to the $1.2 million average income replacement deficit highlighted by our survey.
Our industry exists to help consumers prepare for the worst and protect what matters most. We should all take this responsibility seriously and challenge clients to do the life insurance income replacement math.
1. Unless otherwise noted, all data in this article comes from Nationwide Financial's Life Insurance/Income Replacement Study, which was conducted online by Harris Interactive, March 15 to March 21, 2013. The respondents were comprised of 1,163 U.S. adults, ages 24-66 that are currently married/partnered and/or have dependents, are not retired, and have household incomes of $24,000 or more. This online survey is not based on a probability sample and therefore no estimate of theoretical sampling error can be calculated.
2. Approximate costs are for a 20-year term life policy from Nationwide in best underwriting class. Costs may vary by distribution channel, age, risk class, etc. Costs are subject to change. Coverage limits may vary.
3. LIMRA's 2012 Life Insurance Barometer study
A version of this article appeared in Life&Health Advisor in 2013
NFM-13139AO