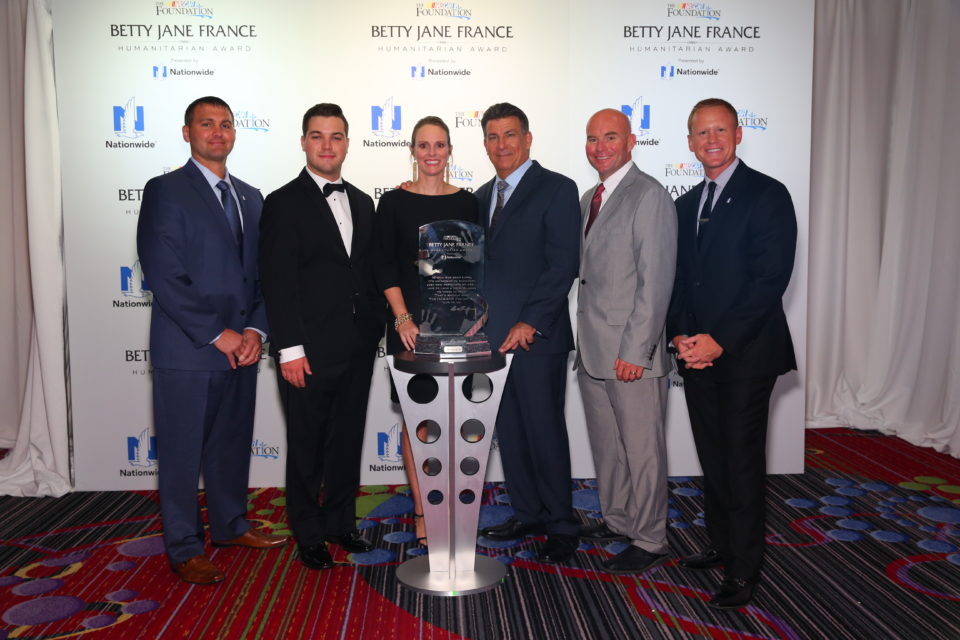 The NASCAR industry gathered in New York City on Tuesday night for The NASCAR Foundation's inaugural Honors Gala to pay tribute to Betty Jane France, who passed away in late August. The group also continued her legacy by announcing the winner of the humanitarian award named after her.
Andy Hoffman, Founder of Team Jack Foundation, was named the winner of the sixth annual Betty Jane France Humanitarian Award presented by Nationwide. Hoffman, who will receive a $100,000 donation from The NASCAR Foundation, started the Team Jack Foundation after his son developed pediatric brain cancer, and has raised $3 million since 2011 to help eradicate the disease.
"Tuesday night's Honors Gala was a wonderful opportunity to celebrate the work that all four finalists have been doing in their communities – work that will have a lasting impact on the thousands of people their foundations have helped," said Brad Barnett, associate vice-president of Media & Sports Marketing at Nationwide. "We congratulate Andy Hoffman on winning the award and want to thank all of the finalists for making a difference and being an inspiration to us all."
Nationwide is proud to be the presenting sponsor of The NASCAR Foundation's Betty Jane France Humanitarian Award. The award honors the commitment to philanthropy and community service that The NASCAR Foundation's Chairwoman, Betty Jane France, demonstrated throughout her life.
Hoffman won the award following an online fan vote on NASCAR.com. This year's other finalists included Jim Giaccone of Bayville, New York, representing Tuesday's Children; Logan Houptley of Bethlehem, Pennsylvania, a founding member of Mikayla's Voice; and Parker White of Greensboro, North Carolina, founder of BackPack Beginnings. Each of these finalists' charities will receive a $25,000 donation from The NASCAR Foundation.