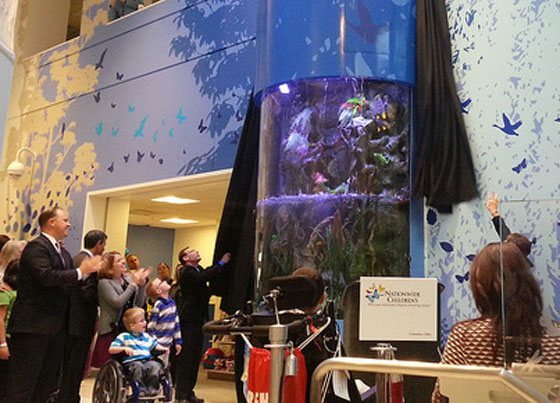 Matt Jauchius, executive vice president and chief marketing officer of Nationwide, and Dr. Steve Allen, CEO of Nationwide Children's Hospital, were on hand to unveil a giant aquarium at the Columbus, Ohio hospital. The fish tank was donated by Nationwide Insurance and designed by Wayde King and Brett Raymer from Animal Planet's "Tanked," a hit reality show showcasing custom aquariums.
Aquarium details
The 12 1/2 feet by 4 feet unique aquarium will be a welcome addition to the hospital's lobby. Featuring a waterfall and brightly colored saltwater clownfish, the aquarium will entertain hospital guests, patients and employees.
Continuing our partnership with Nationwide Children's Hospital
Nationwide Insurance has partnered with the hospital for more than 60 years to achieve its mission of providing quality medical care to children. In 2006, Nationwide Children's Hospital received a $50 million commitment from the Nationwide Insurance Foundation.
Learn more about how Nationwide Insurance gives back through philanthropy, community involvement and volunteerism.