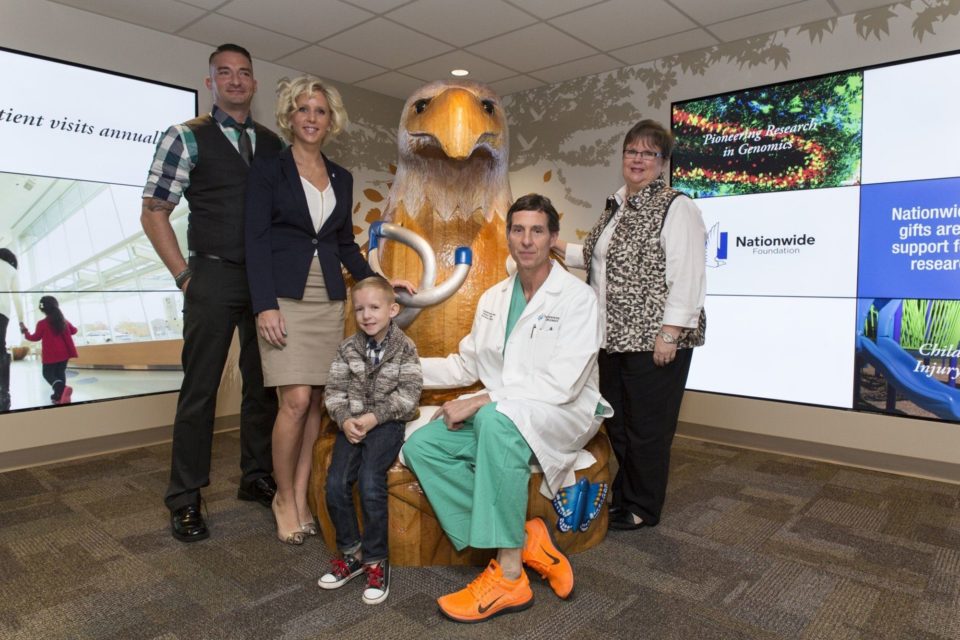 Visitors of Nationwide Children's Hospital might notice a new "animal friend" statue in Heritage Hall.
In a ceremony on October 21, 2015, Nationwide Children's Hospital dedicated a new statue in the hospital to honor the decades long relationship with Nationwide and the Nationwide Foundation. The six-foot, hand-carved, wooden Eagle—representative of Nationwide's "N" and eagle logo— weighs more than 1,100 pounds and is the 24th animal added to the Nationwide Children Hospital's magical forest. These whimsical Animal Friends have been a favorite of patients, families, staff and visitors since they were introduced in 2012.
"We are proud to welcome the eagle as both an Animal Friend Ambassador and official member of our patient care team," said Dr. Steve Allen, CEO of Nationwide Children's Hospital. "This Eagle will bring joy to our patients and also serve as a tribute to what Nationwide's transformational financial support has given to children in our community and around the world."
To help with advances in patient care, research in childhood injury prevention and development, Nationwide and the Nationwide Foundation have provided, in aggregate, more than $100 million in funding and other support to Nationwide Children's Hospital. Nationwide has also helped raise money for Nationwide Children's Hospital through sports marketing sponsorships including The Memorial Tournament, Nationwide Children's Hospital Championship, Legend's Luncheon, Nationwide Children's Hospital Columbus Marathon and the Nationwide Children's Hospital 200 NASCAR race at MidOhio. Collectively, these sponsorships help to raise more than $3 million annually for the hospital.
Nationwide's launch of Make Safe Happen, a program dedicated to reducing accidental injuries around the home, is also representative of the company's deeply held interest in children's well-being. Experts in the Center for Injury Research and Policy at Nationwide Children's Hospital have played a crucial role in developing the Make Safe Happen app. With the goal of empowering parents and helping to prevent childhood injury, the app is owned by Nationwide Children's Hospital and made possible through funding from Nationwide and the Nationwide Foundation.
"We are honored that Nationwide Children's Hospital wanted to recognize our long-term relationship. Nationwide has a history of supporting the well-being of children, which makes our partnership on important initiatives like childhood injury research a natural fit," said Steve Rasmussen, Nationwide CEO and Nationwide Foundation Chairman. "We are especially proud to support the work Nationwide Children's is leading for children – some of the most important members of communities around the world."