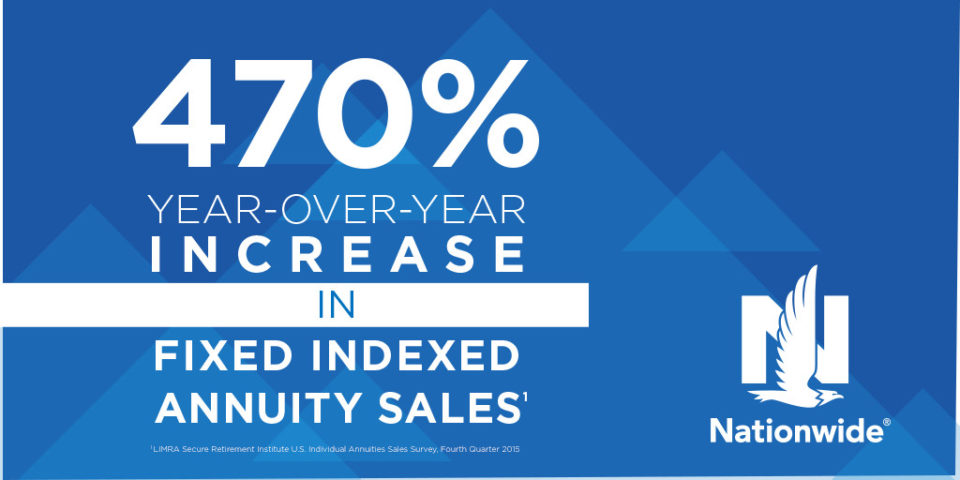 A 470 percent year-over-year increase in fixed indexed annuity (FIA) sales propelled Nationwide to a top-five 2015 ranking according to recently released annuity industry sales data1, making the company the fastest growing carrier in the top 30 FIA providers2. The dramatic increase in sales pushed the company up 17 spots from its 2014 position.
Both InvestmentNews and InsuranceNewsNet recently covered the company's FIA sales success.
Nationwide's market-share growth is largely the result of expanding its Nationwide New Heights® FIA lineup. In June 2015, the company introduced a suite of four New Heights FIA options, offering financial professionals the flexibility to help match the individual planning needs of each client with product differentiations that include a range of crediting methods.
"The innovation behind New Heights FIAs is that they offer earning potential beyond what's typical with traditional fixed indexed annuities," said Eric Henderson, senior vice president of life insurance and annuities at Nationwide.
The enhanced New Heights FIA suite also offers clients the choice of three indices, including S&P 500®, MSCI EAFE, and J.P. Morgan MOZAICSM Index (USD), a multi-asset index designed to create consistent returns based on a combination of broad diversification, positive momentum and volatility smoothing. J.P. Morgan MOZAICSM is only available as an index option within FIAs from Nationwide.
"J.P. Morgan MOZAIC's track record of generating stable returns is a key part of what made New Heights compelling to both financial professionals and clients," said Henderson. "When you pair this unique index with New Heights' optional features, it presents an attractive retirement planning solution for clients looking for capital preservation and the opportunity for growth and income potential."
Nationwide worked with Annexus, a leading fixed indexed annuity product designer, on both the suite and the initial New Heights FIA that launched in 2014.
Visit nationwidenewheights.com for more information.
1LIMRA Secure Retirement Institute U.S. Individual Annuities Sales Survey, Participant's Report, Fourth Quarter 2015
2The top 30 carriers in 2015 fixed indexed annuity sales each had at least $100 million in sales.
FAM-0631AO