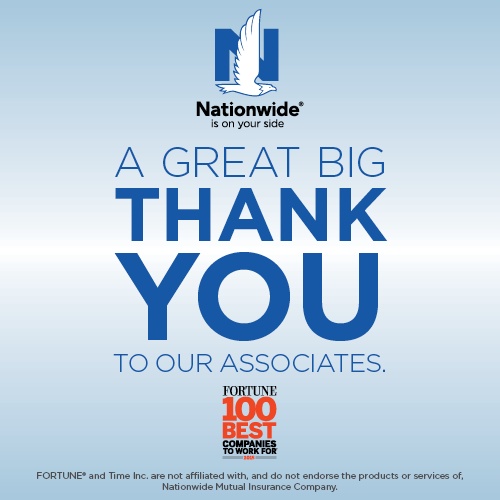 Nationwide is honored with a place on this prestigious list because of their associates and the difference they make at Nationwide, for their members, with their partners and in their communities. This award is even more meaningful because two-thirds of Nationwide's award score came from a survey of their associates. Many of their associates took the time to respond to Fortune and shared personal experiences about what makes Nationwide great.
"Our company's core values are all about people – it's what makes Nationwide a family. Being a great company is a reflection of our culture and how we treat each other," said Steve Rasmussen, CEO of Nationwide. "Our associates are the key to our success and Nationwide has received this award because of them."
You can find the complete Fortune "100 Best Companies to Work For" list in the March 2015 issue of Fortune magazine here. You can also view Nationwide's company spotlight featured in the magazine.
While Nationwide has received other awards that have recognized its work environment, this recognition is extra special because it tells the world what they've always known—that Nationwide has something really special—its associates.
Nationwide thanks all of its associates for giving their time and talents and for making the company a great place to work.