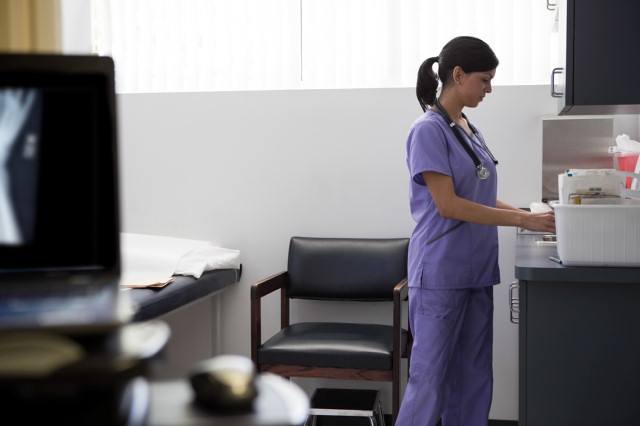 Helping to save lives each and every day.
Nationwide associates have been committed to saving lives by donating blood for almost 70 years. This year, be sure to join Nationwide's tradition of giving blood, and positively influence the lives of others.
The number of lives that Nationwiders have impacted since first donating in 1944 is inspiring. In 2011, Nationwide associates gave more than 17,000 units of blood during drives held across the country. Because one unit of blood can save up to three lives, this many units of blood have the potential to save 51,000 lives.
"It's so important for Nationwide to give back because that is what we built this company on," said Mark Vitali, Nationwide agent in Durham, N.C. "It is taking care of not only our members, but also people in the community where our members live."
Nationwide's brand promises to be there when disaster strikes. This purpose is shared with the American Red Cross, which makes them a natural partner for Nationwide.
"They need help from us to be able to do what they do so very well, and we complement that," said Vitali. Nationwide is committed to our partnership with the American Red Cross, and in 1995 we became the first corporation to open a full-time, on-site Red Cross blood donor center in the country.
Since 2007, our dedication has continued. The Nationwide Insurance Foundation has funded nine new bloodmobiles for the American Red Cross and LifeServe of Iowa, which enable them to travel to various sites to find new donors and collect blood. New donors are critical to keep a constant blood supply, and without the bloodmobiles, they wouldn't be able to reach out to so many different communities to recruit new donors.
"Each and every day, we have to find blood donors to help save lives of hospital patients," said Barry Potter, executive director of the American Red Cross Triangle Area. "To do that, about half of donors come to us and the rest we have to find."
Being a part of Nationwide means adopting our values and traditions. This is why our associates recognize the constant need for blood and decide to donate.
"I believe donating blood is the right thing to do," said Gail Ryan, senior coordinator at Scottsdale Insurance. "It makes you feel good. You are helping out somebody else. You are making a difference and you are giving the gift of life."
To find out how you can donate blood, visit the American Red Cross.