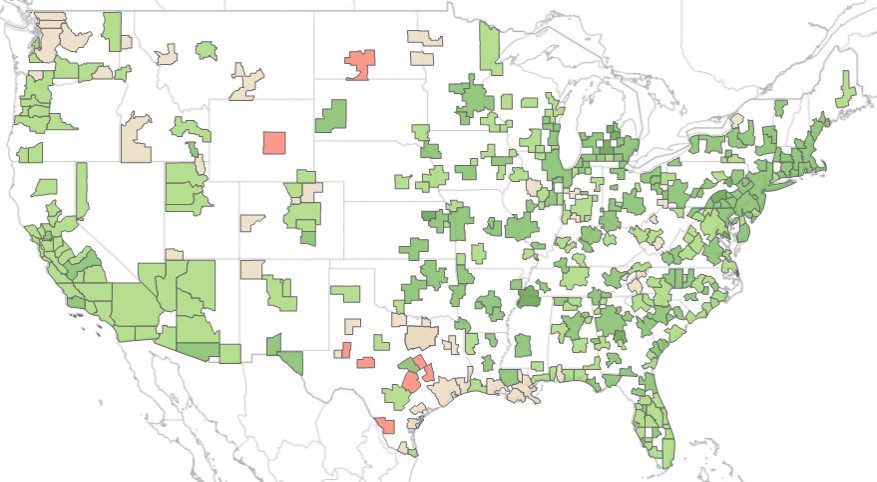 With continued strength in the job market and solid gains in house prices, there has been a meaningful drop in mortgage delinquencies and foreclosures in the U.S. Steady employment gains mean most Americans are able to meet their mortgage obligations, while house price gains have helped reduce the number of underwater mortgages – leading to lower default rates and a healthy outlook for the housing market in the next year, according to the latest housing market barometer released today by Nationwide, a leading insurance and financial services organization.
The forward-looking Health of Housing Markets Report (HoHM Report) evaluates the housing health for the U.S. and 400 metropolitan statistical areas (MSAs). This quarter's HoHM Report shows serious delinquency rates in nearly all MSAs are trending down toward pre-housing bust levels. As mortgage market conditions steadily improve, housing is expected to remain a bright spot in the U.S. economy.
"We are seeing positive signals for homeowners, as well as local economies, in most metro areas," said David W. Berson, Nationwide's senior vice president and chief economist. "The drop in serious mortgage delinquency rates supports sustainable home price gains and housing activity. The more sustainable housing markets should allow for positive feedback loops in local economies, with strengthening job and income gains for residential real estate agents, mortgage bankers and home improvement workers."
The Top 10 MSAs in the index are, in order: Harrisburg-Carlisle, Pa.; Saginaw, Mich.; Lansing-East Lansing, Mich.; Memphis, Tenn.-Miss-Ark.; Manhattan, Kan.; California-Lexington Park, Md.; Bloomsburg-Berwick, Pa.; Macon, Ga.; Midland, Mich.; Baltimore-Columbia-Towson, Md.
The Bottom 10 MSAs, in order, are: Bismarck, N.D.; Casper, Wyo.; San Angelo, Texas; Midland, Texas; Austin-Round Rock, Texas; Waco, Texas; Laredo, Texas; College Station-Bryan, Texas; Dallas-Plano-Irving, Texas; Victoria, Texas.
More information about the Health of Housing Market Report, including the methodology used, can be found at blog.nationwide.com/housing/. The HoHM Report is released on a quarterly basis online and in print.
This material is provided by Nationwide Economics and is general in nature. It is not intended as investment or economic advice, or a recommendation to buy or sell any security or adopt any investment strategy. Additionally, it does not take into account the specific investment objectives, tax and financial condition or particular needs of any specific person. We encourage you to seek the advice of an investment professional who can tailor a financial plan to meet your specific needs. The economic and market forecasts in this report reflect our opinion as of the date of this presentation/review and are subject to change without notice. These forecasts show a broad range of possible outcomes. Because they are subject to high levels of uncertainty, they may not reflect actual performance. Case studies and examples are for illustrative purposes only. We obtained certain information from sources deemed reliable, but we do not guarantee its accuracy, completeness or fairness.