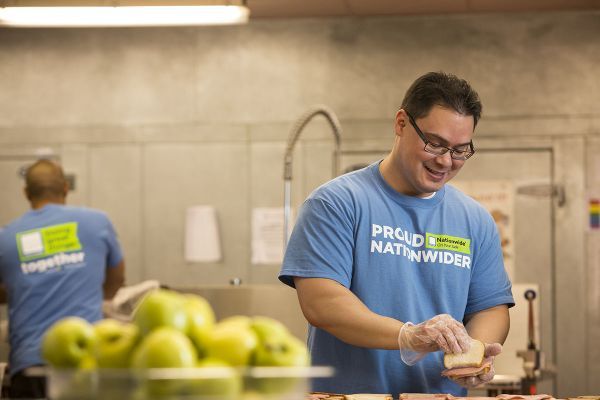 The Nationwide Insurance Foundation will donate $1.43 million to continue its support of Feeding America. Part of this gift will support 21 grants to Feeding America member food banks across the country.
Feeding America's great work
Today, one in six Americans lack access to foods that provide them with basic nutrition. With over 61,000 emergency shelters, food banks and soup kitchens, the hunger-relief charity helps those who must choose between food and other necessities.
Feeding America's goal is to provide 3.6 billion meals by 2018, a 1 billion meal increase over 2010 levels. The charity also educates the public about the issue of hunger and campaigns for legislation to help keep people from going hungry.
Nationwide Insurance Foundation's relationship with Feeding America
Nationwide Insurance and the Nationwide Insurance Foundation have contributed to Feeding America for the past five years. The alliance has promoted hunger-relief initiatives around the country and in communities where Nationwide does business.
"At Nationwide, our mission is to support the communities where our employees and members live and work when it matters most," said Chad Jester, president of the Nationwide Insurance Foundation, "So it's our pleasure to partner with Feeding America, an organization with an outstanding track record of providing one of life's most basic necessities."
The Nationwide Insurance Foundation has earmarked $525,000 of its 2014 donation to provide fresh fruits and vegetables for member food banks across America.
Nationwide employees regularly volunteer at and donate to local Feeding America food banks. In addition to volunteering, there are plenty of other ways you, yourself, can get involved and help those that truly need it. Learn more about how you can join in and contribute to the cause—even the tiniest of steps can make a world of difference.