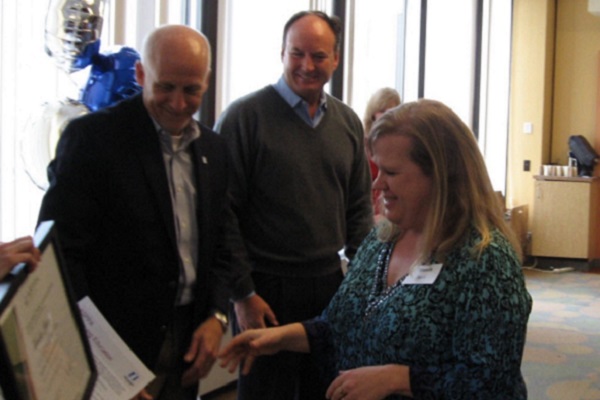 Nationwide retirement plans service associate Wanda Berk receives her QKA certificate from Jeff Stein, vice president of operations, and John Carter, president of Nationwide's retirement plans business.
Nationwide retirement plans service team associates recently earned 251 Retirement Plan Fundamentals (RPF) certifications and 34 Qualified 401(k) Administrator (QKA) credentials from the American Society of Pension Professionals (ASPPA). According to the ASPPA, these efforts make Nationwide among the top firms in the industry by number of certifications in 2015.
"This is an example of how we're delivering on our promise to help America's workers prepare for and live in retirement," said John Carter, president of Nationwide's retirement plans business. "Our investment underscores Nationwide's commitment to providing unparalleled service."
ASPPA is the premier national organization for retirement plan professionals. Its certification programs are designed to help retirement plan professionals understand and implement industry best practices. The QKA credential is one of the most respected designations in the field of defined contribution administration, while the RPF classes provide an introduction to the issues, terminology and requirements of retirement plan administration.
"The retirement world is increasingly complex and providers are challenged to match the ever-changing needs of plan sponsors and participants. Those that stand out have the best-educated and trained people," said Sarah Simoneaux," past president of ASPPA and current partner of Simoneaux and Stroud Consulting Services. "Among retirement plan providers, Nationwide has made an extraordinary commitment to ensure its workforce is prepared to meet those needs."
"This is the second milestone for Nationwide associates working to earn ASPPA designations, and more associates will receive certifications in 2016," said Jeff Stein, vice president of retirement plan operations for Nationwide. "Our most valuable resource is our people, and investing in their continuing education means enhanced service for our clients and partners."
The RFP certification helps retirement plan professionals gain a big-picture view of the lifecycle of a retirement plan from its establishment and annual administration to closing down a plan. The QKA credential is offered to retirement plan professionals who work primarily with 401(k) plans. Applicants for the QKA credentials are from various professional disciplines. They typically assist employers and consultants with the recordkeeping and administration of 401(k) and related defined contribution plans.
For more information about Nationwide retirement plans, call 1-800-626-3112 or visit www.nationwide.com.