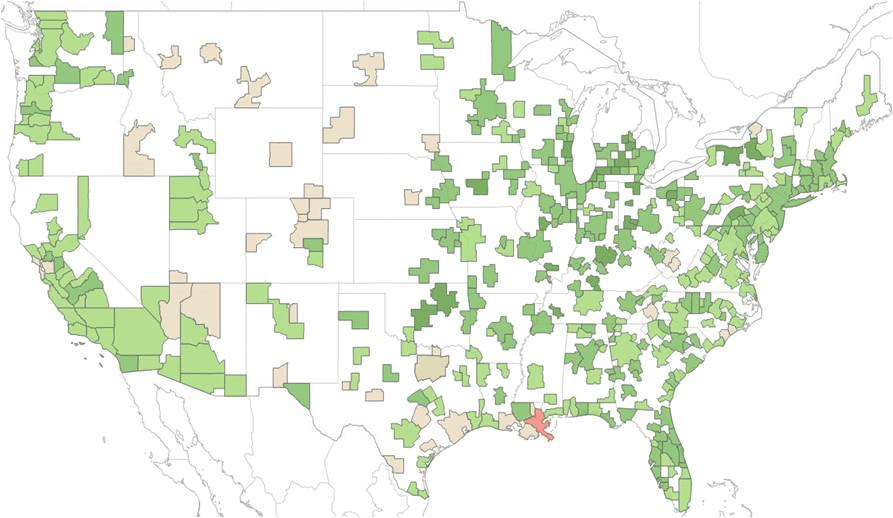 The U.S. housing market is continuing to see positive momentum, helped strongly by low and falling unemployment rates, sparking a series of interrelated events that has led to increased demand among renters and buyers. In turn, the U.S. housing market is healthy with little chance of a housing downturn in the next year, according to the latest quarterly housing market barometer released today by Nationwide, a leading insurance and financial services organization.
The forward-looking Health of Housing Markets Report (HoHM Report) evaluates the housing health for the U.S. and 400 metropolitan statistical areas (MSAs). Performance rankings show that the housing markets in the vast majority of metropolitan statistical areas and divisions are healthy. This suggests that most local housing markets may see sustainable expansion over the next year.
The Top 10 MSAs in the index are, in order: Springfield, Ill.; Niles-Benton Harbor, Mich.; Milwaukee, Wis.; Akron, Ohio; Dayton, Ohio; Battle Creek, Mich.; Springfield, Ohio; Midland, Mich.; Toledo, Ohio; Saginaw, Mich.
The Bottom 10 MSAs, in order, are: New Orleans-Metairie, La.; Sherman-Denison, Texas; Watertown-Fort Drum, N.Y.; Sioux Falls, S.D.; Hammond, La.; Odessa, Texas; Austin-Round Rock, Texas; Casper, Wyo.; Dallas-Plano-Irving, Texas; Houma-Thibodaux, La.
More information about the HoHM Report, including the methodology used, can be found at blog.nationwide.com/housing/. The HoHM Report is released on a quarterly basis online and in print.
NFJ-0609AO