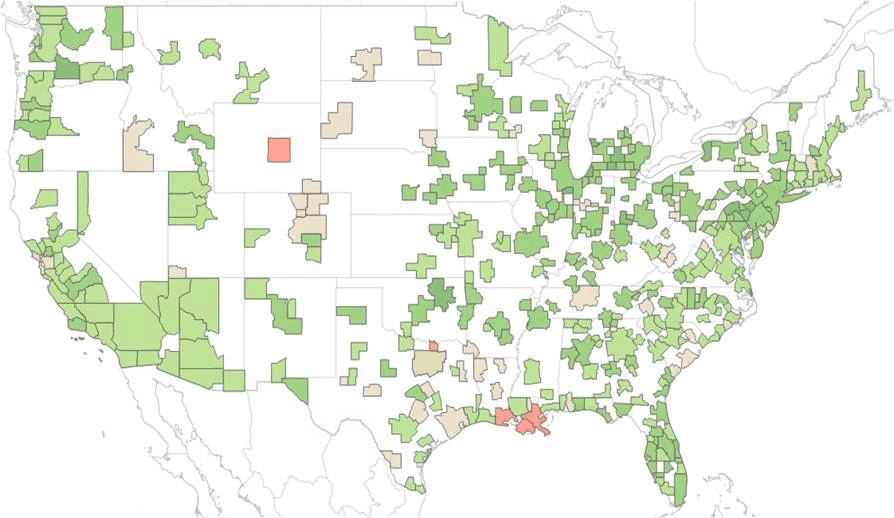 Most U.S. housing markets are healthy with little chance of a downturn in the near term, according to the latest quarterly housing market barometer released today by Nationwide, a leading insurance and financial services organization. The forward-looking Health of Housing Markets Report (The HoHM Report) evaluates the housing health for the U.S. and 400 metropolitan areas.
Regionally, the housing markets in the vast majority of metro areas across the country are healthy. This suggests that most local housing markets should see sustainable expansion in the near term.
The Top 10 metropolitan areas in the index are, in order: Kankakee, Ill.; Harrisburg-Carlisle, Pa.; Dayton, Ohio; Yakima, Wash.; Lansing-East Lansing, Mich.; Buffalo-Niagara Falls, N.Y.; Lancaster, Pa.; Niles-Benton Harbor, Mich.; Battle Creek, Mich.; Muskegon, Mich.
The Bottom 10 metro areas, in order, are: Casper, Wyo.; Sherman-Denison, Texas; New Orleans-Metairie, La.; Houma-Thibodaux, La.; Lafayette, La.; Hammond, La.; San Angelo, Texas; Dallas-Plano-Irving, Texas; Charleston, W. Va.; Beckley, W. Va.
More information about the HoHM Report, including the methodology used, can be found at www.blog.nationwide.com/housing. The HoHM Report will be released on a quarterly basis online and in print.
NFW-5234AO