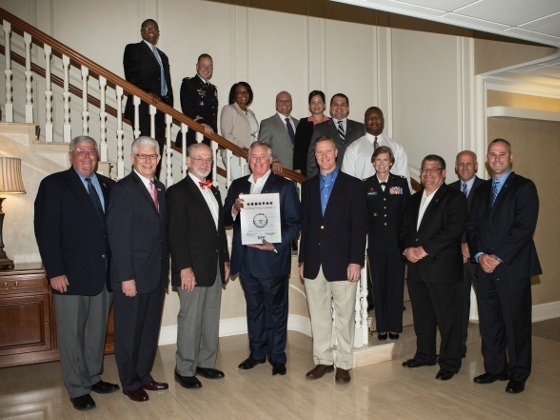 Nationwide and the brave men and women who serve in various branches of the military share a common connection–we both serve a noble purpose. Members of the military are charged with the responsibility of protecting lives and Nationwide is responsible for protecting what's most important in the lives of our members. During a special ceremony on July 12, Nationwide CEO Steve Rasmussen signed a Statement of Support reaffirming Nationwide's commitment to support associates who are called to active duty.
The Employer Support of the Guard and Reserve (ESGR) Statement of Support is a pledge employers make to show they support employees in the important activities required as part of their mission to serve their country as members of the National Guard and Reserve. Nationwide believes the unique skills and experiences that members of the military and veterans have add value to Nationwide and for its members.
"Supportive employers like the Nationwide Mutual Insurance Company are critical to maintaining the readiness and strength of the nation's Guard and Reserve units and allow Guardsmen and Reservists the opportunity to serve our country more effectively and with greater peace of mind," said Tom Bullock, ESGR Chief of Employer Outreach. "By signing this Statement of Support, Nationwide sends a clear message that they stand committed to their military employees and recognize the integrity, global perspective and proven leadership they bring to the workplace."
Several Nationwide associates who currently serve in the military or are veterans attended the event. Tony Hall, a heavy equipment operator in the Army and a member care representative at Nationwide, said, "I like that Nationwide recognizes military people—even when you don't realize it because they aren't in uniform."
Military service is just another way Nationwide associates bring the On Your Side® promise to life.
"Our associates who serve in the military have made a tremendous commitment to protect our country," said Rasmussen. "At Nationwide, we believe it is important to continue to hire and support their efforts on behalf of our country and our company."
Working for Nationwide
Nationwide has always been a company that values people.
And Nationwide's commitment to those serving in the military isn't new. In fact, Nationwide traces its support of associates in active duty to World War II—a time when hundreds of its associates joined the military.
While they were overseas, the company set up a physical location in the headquarters lobby where associates could go to send letters of encouragement to their co-workers in the military.
One of the letters came from Murray D. Lincoln, the President of the Farm Bureau Mutual Insurance Companies (later renamed Nationwide). Lincoln sent a letter to each of the deployed associates that said, "You are doing a great job and we are proud of you. The Farm Bureau cheerfully accepts the responsibility of providing jobs for you to return to should you desire to do so."
Nationwide continues its commitment to recruiting veterans, supporting the important work they do while employed and by helping to ease the transition to civilian life.
Hall offers advice for veterans looking to enter the workforce in the insurance industry, "Use the skills you already have. The values that are instilled through military experience provide a great foundation for moving forward with a career in insurance."
Visit our Veterans Careers page to search for job opportunities for veterans.
Source: Nationwide History & Archives Center