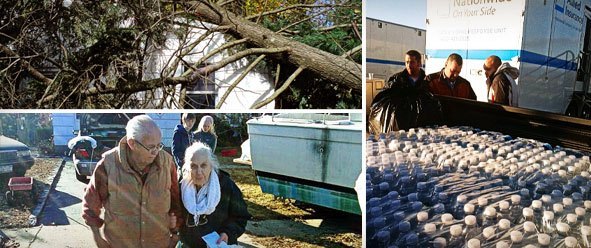 How we are helping our members throughout the storm and aftermath.
Anyone facing the arrival of a mammoth storm knows to prepare, because quick action pays off. The same goes for your insurance company.
As Sandy roared through the East Coast, Nationwide sent three catastrophe-response trucks to affected locations and alerted more than 1,200 adjusters and claims associates to prepare. Traveling difficulties were compounded by power outages and long fuel lines. The first rig—a fully equipped workstation—was in Farmingdale, NY, and was staffed shortly after Sandy hit Long Island. Other rigs went to New Jersey and Delaware, where member need was greatest.
Nationwide representatives called members to assess damages and get them help quickly. To help those hardest hit, Nationwide teams went door-to-door, distributing water, blankets, sanitizers and batteries. Member Christine O'Brien, of Monroe, NY, emailed:
I cannot tell you how pleased I am with the immediate assistance I received from Nationwide when I reported a claim for a tree that…Sandy left on my house. Marianne Anton contacted me and stayed in touch with me; she even found a tree service that could get to my house sooner than the people I had contacted. She has been going out of her way, working around the clock and staying in touch with those of us who suffered losses during the storm. She made the whole process seamless, and I have been singing Nationwide's praises to anyone who will listen, including people in grocery and gas lines. I hope I can convince people to switch to a company that has representatives that really care and show the compassion Marianne does.
How can you prepare for a storm like Sandy?
Keep your insurance claims number 1-800-421-3535 and insurance policy nearby.
Assemble a survival kit.
And above all, when a storm strikes, stay calm and react quickly—the safety of you and your family depends on it.