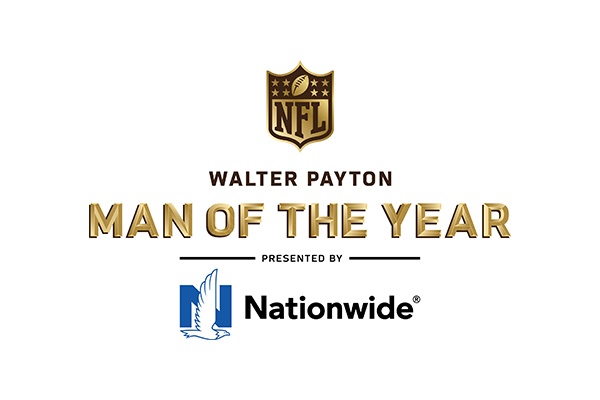 On December 6, the National Football League (NFL) announced this year's 32 Walter Payton NFL Man of the Year Award nominees. Nationwide is giving fans a chance to support their favorite nominee and help them earn some extra money for their favorite charity through its 4th annual Charity Challenge.
Nationwide's Charity Challenge is a social media campaign designed to support and promote team nominees. You can vote for your favorite nominee using the following steps:
Create a post using #WPMOYChallenge on Twitter
Include your favorite nominee's last name somewhere in the post
Submit your vote by January 13
The player whose last name is used the most will receive a $25,000 contribution to their charity of choice, courtesy of Nationwide. Second place votes will earn $10,000 with third place receiving $5,000. Fans can see a complete list of the nominees and keep tabs on who is winning the Charity Challenge at nfl.com/manoftheyear.
"Nationwide is honored to help highlight and support the incredible efforts of this year's team nominees," said Nationwide's Chief Marketing Officer Terrance Williams. "We hope others are inspired by these 32 men to make positive differences—big and small—in their own communities. Congratulations and thank you to each of the nominees for their leadership both on and off the field."
Since becoming the presenting sponsor of the Walter Payton NFL Man of the Year Award in 2014, Nationwide has contributed more than $1 million to the foundations represented by the nominees. The company has helped shine a national spotlight on all the great work being done by NFL players who work hard off the field to make a difference in the lives of others, elevating one of the NFL's most prestigious awards to a new level.
New this year, all 32 team winners will be highlighted as finalists and recognized for their important work during the weekend leading up to Super Bowl LIII. The 2018 Walter Payton NFL Man of the Year will be announced during NFL Honors, a two-hour primetime awards special to air nationally on February 2, the eve of Super Bowl LIII, on CBS. NFL Honors will be at Fox Theatre in Atlanta.
Five hundred thousand dollars will be donated in the name of the 2018 winner. $250,000 will be donated in his name to expand Character Playbook, the NFL and United Way's digital character education program. An additional donation of $250,000 will be donated to the charity of his choice. All other 31 nominees will receive a donation of $50,000 in their name to expand Character Playbook, and an additional donation of up to $50,000 to their charity of choice. All donations are courtesy of the NFL Foundation, Nationwide and United Way Worldwide.
For more information on the nominees, the award and Charity Challenge rules, visit nfl.com/manoftheyear.