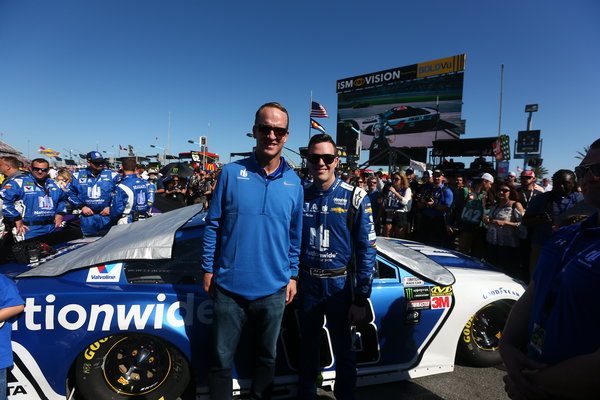 The racing world turned its eyes to Daytona International Speedway February 18 for the running of the DAYTONA 500 and Nationwide was literally front and center at this year's Great American Race.
In his first race since taking over for Dale Earnhardt Jr., Alex Bowman and the No. 88 Nationwide Chevrolet Camaro ZL1 won the pole position during last week's qualifying. To show our support for Alex and the team, Nationwide asked Nationwide spokesman and member Peyton Manning to attend the race and serve as the honorary pace car driver for the race.
Peyton spent the day meeting with Alex, Rick Hendrick and other dignitaries before he and Alex appeared on the Fox pre-race show to talk about the partnership with Nationwide, where he raved about his new Nationwide teammate.
"I've been getting a lot of advice from Alex (on driving the pace car)," said Manning. "I'm really excited to have him on the Nationwide team. What an exciting opportunity winning the pole. I'm looking forward to seeing him race today. This is an incredible atmosphere and I'm honored that Nationwide had me down here to take part in it."
The Nationwide presence wasn't limited to just Peyton and Alex as Nationwide's own Dale Jr. served as the Grand Marshal of the race. Once he gave the command for drivers to start their engines, Peyton climbed into the pace car and led the field around the track. During his drive, Fox race analysts Darrell Waltrip, Mike Joy and Jeff Gordon took a few minutes to interview Peyton live and get his thoughts on the day's experience. After the interview was over, Peyton led Bowman and the field down the front stretch of the famed 2.5 mile race track to the green flag.
With his pace car duties behind him, Peyton climbed on top of the No. 88 Nationwide pit box to watch a few laps with Dale Jr. at his side.
Peyton witnessed a great performance from the 24-year-old Bowman as the driver of the No. 88 Camaro led 13 laps, ran inside the Top 10 for most of the race and was in fourth place with 8 laps to go before getting caught up in an accident. After repairing the car, Bowman would finish the race in 17th place.
Despite the disappointing finish, Alex was thrilled to have the support of Nationwide.
"I'm so grateful to Nationwide for everything they've done for us," said Bowman. "For them to bring Peyton Manning to the race to watch us run was a real thrill. It's certainly not the finish we wanted, but we had fun."
Fans will see a lot of the No. 88 Nationwide Chevy Camaro ZL1 over the next few months as the Nationwide blue and white car will be the primary paint scheme the next nine races.