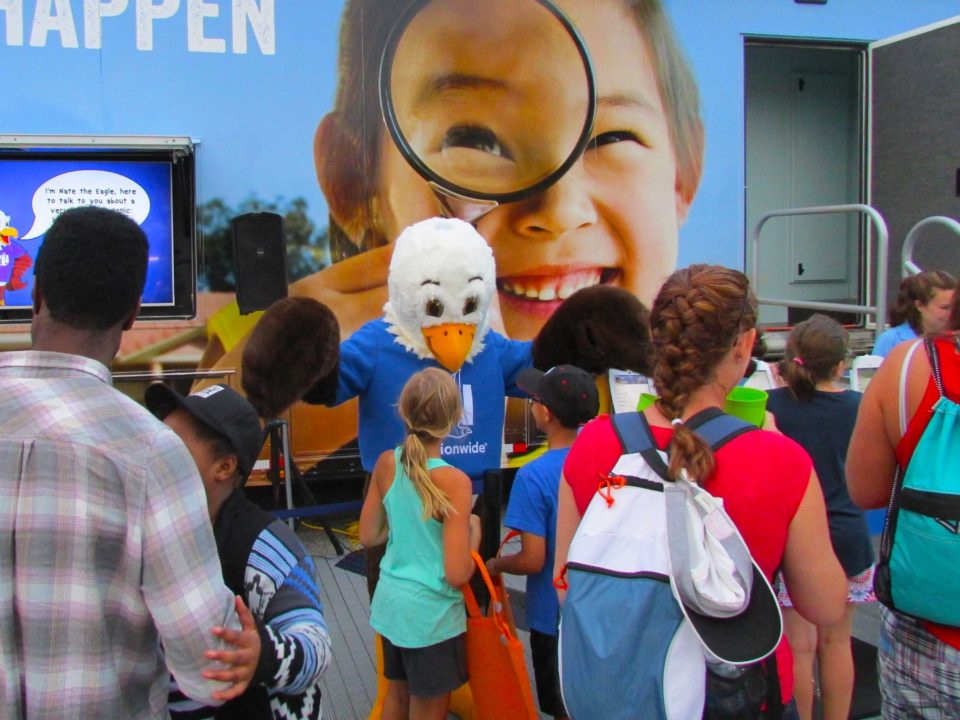 Families learned more about home safety through interactive challenges
The Make Safe Happen Safety Experience is an interactive and fun way for children and their families to learn how to make their homes safer.
This summer, the Safety Experience is on a coast-to-coast tour including a recent stop (July 2-4) in St. Louis. Click here to see photos from the event.
Guided by an interactive program on a smart tablet and a helpful eagle named Nate, families participated in simple challenges and learned important tips to keep every area in and around their homes safe. Visitors went room to room in a simulated home and learned what to do if they see a dangerous situation, such as an unsteady television, unsecured household chemicals, or a child playing around water without adult supervision. Helpful safety information and tips were also provided to parents, such as making sure hot water temperatures do not exceed 120 degrees, the importance of having a home fire escape plan, and more. Fun giveaways reinforced the message.
Nationwide launched the Make Safe Happen program to help reduce unintentional injuries, the number one cause of death of children in the United States.
MEDIA OPPS:

Visuals/Tour of Safety Experience, Nationwide's Nate the Eagle mascot

B-roll available for download

Username: trucks
Password: nationwide

Check out photos from the Safety Experience visit to the St. Louis fair.

MORE INFO:
The Make Safe Happen program also offers safety tips and solutions through its website, MakeSafeHappen.com, and mobile app to help parents and caregivers make their homes safer – offering room-by-room advice customized for the ages of the children in the home. The app is owned by Nationwide Children's Hospital and developed by the safety experts in their Center for Injury Research and Policy.
MEDIA CONTACT:

Nationwide Media Relations
(614) 249-6349