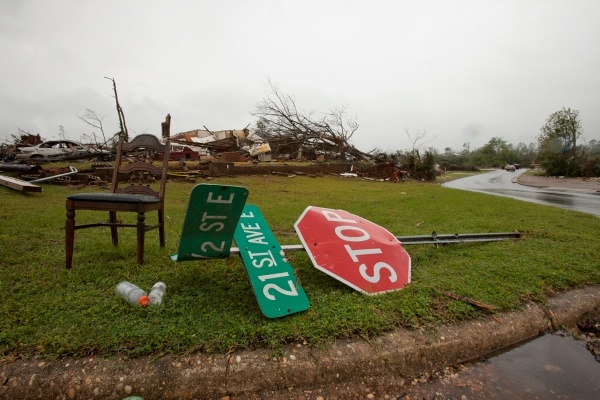 Spring is here, and so is the specter of severe weather.
And Nationwide claims data shows that wind, hail and weather-related water damage account for more claims than all other property claims combined.
"Severe weather often generates a significant amount of property damage across large swaths of the country," said Ken Enscoe, senior claims director for Nationwide's Catastrophe Operations. "As we move into the spring and summer months, it's important for people to be prepared so they can prevent damage to their property."
Wind, hail and weather-related water damage accounted for over half of all property claims filed in 2017, according to Nationwide claims data.
Here are some tips on how to reduce the chances of damage to your property:
Tips for storm preparedness
Clear limbs and trim trees: During a storm, dead tree limbs can get loose and cause damage to a home's exterior or even break a window. Heavy rains or high winds can also cause trees with shallow root systems to pull out of the ground.
Secure fences: Ensure that your fences are properly secured to help prevent them from being lifted up and thrown against the house by heavy winds.
Secure furniture: Heavy winds can cause items like patio furniture and large toys to damage the exterior of your home. It's a good idea to anchor outdoor furniture or bring it indoors before a storm hits. You should also move anything in your yard inside your house or garage to prevent it from becoming flying debris.
Check gutters: Help prevent damage inside your house by having downspouts drain away from your home and clear your gutters of any debris.
Protect the critical areas: Wind is a major threat to your roof, windows, doors and garage doors. Consider building or hiring someone to build and install temporary protection, such as wind shutters or plywood on windows and coverings for patio and entry doors, strengthen and stiffen garage doors, and install heavy-duty door hardware.
Protect your valuables: If possible, protect mementos in waterproof containers and/or take the items with you if you evacuate. Inventory valuables and contents in the home with pictures or video. Note the approximate value of each item and the date of purchase. You can also send an inventory to a family member outside your region for safekeeping. Also, make sure important documents, such as an insurance policy or mortgage papers, are stored in a safe deposit or fire-safe box.
Know your policy: It's critical to read and understand your insurance policy. Then, examine your property to ensure there are no physical or liability hazards.
Do your homework on repair contractors: Ensure the contractor is licensed, insured and well-qualified to perform the needed repairs. Consider taking advantage of a vetted network of qualified professionals. An example includes Nationwide's On Your Side Property Repair Network available to members. Only professional contractors who pass through a strict credentialing process are authorized to complete repairs through the On Your Side Property Repair Network. To qualify, contractors must have proven financial stability, appropriate licensing, insurance verification and pass a criminal background check.
These tips are provided by Nationwide.com.
In the event our members suffer property damage due to a storm, claim representatives and agents are prepared to assist. Nationwide works to provide quality service, including a claims hotline that is available 24 hours a day, seven days a week – 1-800-421-3535. Members can also file a claim at Nationwide's online claim center.
For more tips on how to protect your family and property, check out the Insurance Information Institute's website on Disasters & Preparedness.