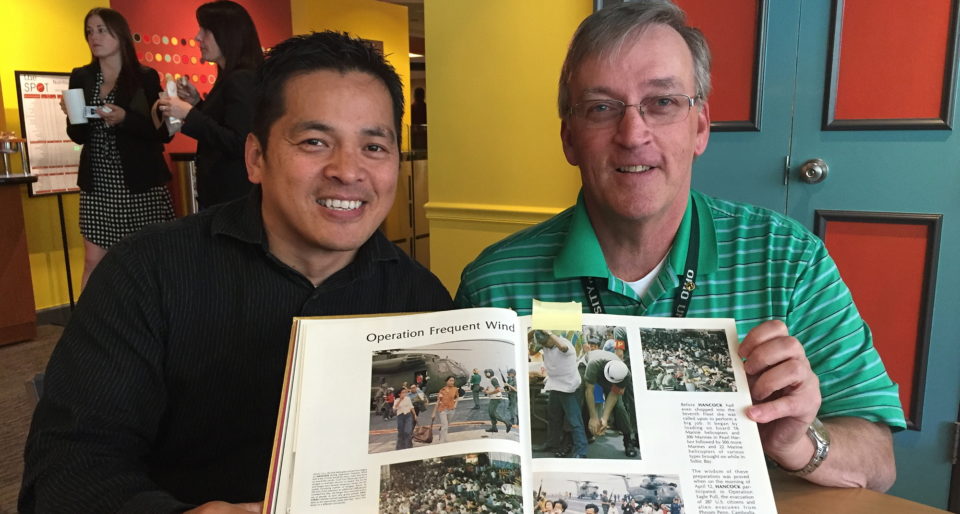 David Vu (left) and Tim Barker (right) meet for the first time since April 1975. A book about the aircraft carrier USS Hancock showed moments from the historic evacuation.
It was April 30, 1975, and the Vietnam War was over – almost.
Tim Barker, specialist in IT, was part of "Operation Frequent Wind," the largest helicopter evacuation on record. A Radioman in the U.S. Navy, he was helping to evacuate the last Americans from Vietnam, as well as "at risk" Vietnamese who had supported our efforts to stop the Communist takeover of South Vietnam.
David Vu, director in IT, was seven years old on that day when he and his mother, father and two younger siblings made it aboard the aircraft carrier USS Hancock for evacuation from Saigon. Over the course of 19 hours, 81 helicopters carried more than 1,000 Americans and almost 6,000 Vietnamese.
A few weeks ago, David shared his story with Ron Hughes, a senior consultant in IT. Ron's ears perked up when the USS Hancock was mentioned. He knew his friend Tim was also on that ship during the evacuation.
Ron put Tim and David in contact, and they recently had a chance to meet. "The people stepping out of the helicopters were left only with what they were wearing that day," said Tim. "I was 19 years old at the time. It was tough to realize what was going on."
"Everyone in Saigon was looking for a way to leave," shared David. "Fifty helicopters were pushed overboard from aircraft carriers to make room for more helicopters to land with evacuees."
David and his family recently attended a Nationwide-sponsored Honor Flight. "It's such an honor to meet the men and women who have made sacrifices for our country," said David. "I want to instill in my children a deep appreciation and respect for our veterans. Our soldiers always deserve a hero's welcome."
Nationwide is a proud supporter of veterans. In 2012, we set a goal of hiring 1,000 vets by 2017. In March, 2016, we met our goal – one year early.