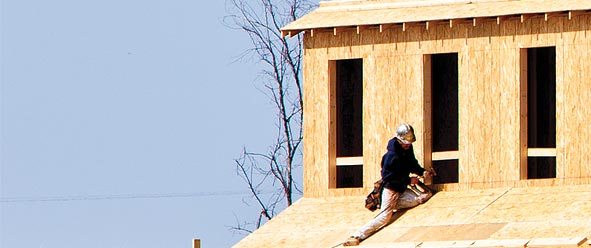 Nationwide catastrophe response team members reflect on the year's storms.
Over the course of spring and summer 2011, hundreds of Nationwide casualty claims associates volunteered to travel into storm zones to help customers file claims and begin rebuilding their homes, businesses and lives.
"Our hearts continue to go out to those who lost their homes, family members and friends," says Mike Pollard, regional vice president in the Allied Insurance Lincoln Regional Office. Allied encompasses the independent agencies that are a part of Nationwide.
Here are reflections from some of the Nationwide and Allied staff that served on the summer's catastrophe response teams.
Courtney Stroud, Field Claims Specialist: The losses were just devastating. Not only had people lost their homes and their belongings, but many also lost family, a friend or an acquaintance. They couldn't believe they were sitting with us discussing that situation—and for the time being, they were homeless. Our team helped people in every way possible, setting up money advances on their claims and setting them up in hotels or temporary housing. Nationwide and Allied had a great presence and we made everything as smooth as possible for our members who had claims.
Amy Kalis, COA, Claims Specialist: One customer sought shelter from the storm in her laundry room. There was literally nothing left of her home except the three walls that supported that room, but we found her piano bench full of sheet music. It was all dry and intact. Her daughter lived a few streets away, and her home was damaged but still standing. We offered to drop the music off there. Then we realized we could salvage the piano bench. We put the music inside it, wiped it off and put it under the awning on her daughter's front porch. Our customer arrived as we were getting ready to leave, and burst into tears thanking us. We were there to do a job, which is the job we do every day—catastrophe or no catastrophe. We help people.
Todd Ahrens, Blue Ribbon Manager: I adopted Twister at an animal shelter in Joplin, Missouri. She is a golden retriever yellow Lab mix who was picked up as a stray just before the tornado hit, so she lived through the tornado at the shelter, safely outside the tornado's path. Even though Twister wasn't hurt in the storm, the folks at the shelter were very happy when she moved to Wisconsin with my family because it freed up space for more than 300 injured and unclaimed dogs and more than 200 cats they took in, treated and housed until owners could reclaim them.