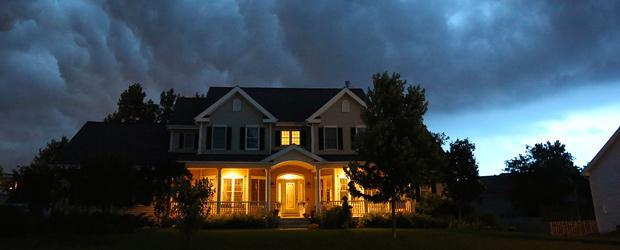 It's summertime and the living is easy – unless you are busy worrying about bad weather.
Summer marks the beginning of hurricane season, which lasts from June to November and can cause significant damage in states all along the U.S. coastline. The National Oceanic and Atmospheric Administration is predicting this year will be calmer than average, but that outlook includes up to six hurricanes and 13 tropical storms during the season.
If you don't live in a hurricane zone, you may still have to contend with wind, driving rain or other extreme weather conditions that can lead to costly home repairs. With a bit of advance preparation, you can reduce your risk of home damage and provide a line of defense against hurricanes and other national disasters. Make hay while the sun shines by following some dos and don'ts of wild weather preparedness.
DO seal up any gaps in doors, windows and pipes
The caulking that seals in your windowsills, doorjambs and other openings in your home expands and contracts with the weather. Over time, this causes caulk to crack, crumble or wear out, which leaves your house vulnerable to the elements. For less than $20 you can invest in a basic caulking gun and waterproof sealant to easily fix and maintain any potential cracks. Also check for gaps in areas where cable and telephone wires, outlets, vents and pipes enter the home.
DON'T wait until the storm to think about shutters
Aside from sealant, shutters are the best line of defense to protect the openings in your home such as doors and windows, according to the Insurance Institute for Business and Home Safety (IBHS). Shutters do more than protect your windowpanes during a natural disaster. They also close your house off to the rain and severe wind that can damage the structural integrity of the home. If you don't have permanent protection such as impact-resistant windows, consider pre-installing fasteners so shutter panels can be put in place in quickly and easily during a storm. Plywood is not an effective alternative, warns IBHS, and should only be used as a last-minute line of defense.
DO secure shingles and soffits
Shingles, particularly those closest to the edge of the roof, can help the roof from accumulating water during a natural disaster. Replace any shingles that are worn or missing, and seal any loose connections on the roof. Soffits, the wood, vinyl or aluminum coverings on the edges and undersides of where a roof meets the house, can help prevent water damage when properly secured and maintained. In fact, 75% of the homes that sustain major hurricane damage are those missing soffit materials, according to the IBHS. Reinforce weakened soffits by adding stainless steel screws that are spaced 12 inches apart along the perimeter, along with waterproof sealant in joints and grooves between the soffit panels and the walls.
DON'T leave loose items in your yard
Broken or weakened tree branches in your surroundings could cause major damage to your home, power lines or even drainage systems if storm winds cause them to fall or fly off. Keep trees and shrubs on your property regularly trimmed and remove any debris they leave behind. Anchor heavy lawn furniture and fencing to eliminate the risk of these items being lifted by wind. If a storm is approaching, remember to bring indoors furniture, garbage cans, flowerpots or anything else that could potentially fly around.
DO use strong building techniques when making home improvements
If you are doing a building or remodeling project, ask your contractor to reinforce connections between the roof and walls, and between the walls and foundation. It's a relatively inexpensive project, adding about 2% to your overall cost, according to IBHS. Yet those fortifications could keep your roof intact and your house standing in the face of violent wind or rain.
Find more ways to prepare for hurricanes and other weather disasters at Nationwide.com, or check out the Top 3 Ways to Prepare Your Property for Hurricanes infographic.