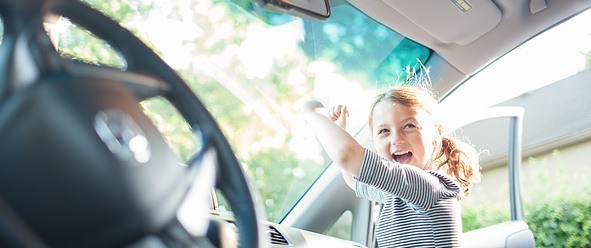 Car safety tips for babies on board.
Welcoming a new baby into your family is an exciting time, and it comes with an awful lot to think about—especially when it comes to protecting your child riding in a car.
Obviously, the subject should never be taken lightly: Nearly 250,000 children are injured every year in auto collisions, according to research from the National Center for Statistics and Analysis (NCSA). Nobody expects to have an accident, so preparedness is key. Here are steps you need to take to keep your tiny passengers safe:
Install a car safety seat
Properly installing the car seat is the most important item to tackle on your list. All 50 states require children of certain ages to be restrained in these seats, according to the National Highway Traffic Safety Administration (NHTSA). The good news? You can find a wealth of information online to become familiar with what car seat safety precautions you need to know. One place to start is at the Insurance Institute for Highway Safety.
It's key to choose the seat that fits both your baby and your car the best, with the assistance of a certified Child Passenger Safety Technician (CPST). These safety experts can even help you pick and install the seat, to further put your mind at ease. You can often find this assistance at your local police, fire and emergency response departments. But ask if they have certified technicians on hand. If not, you can search for one via Safe Kids Worldwide. Once you have the car seat installed, be vigilant and check it regularly to make sure it never moves more than one inch in any direction as it gets used over time.
Research materials
The manuals for the seats and the vehicle should contain a wealth of useful information to further ensure a proper installation, such as where in the car you can put the safety seat, as well as the weight and height limits of your seat and when it expires. Yes—car seats have expiration dates, so be sure to make note of yours on a calendar.
Growth stages
Figuring out when to change car seat positions can be complicated. The American Academy of Pediatrics recommends keeping an infant in a rear-facing seat until he or she is at least 1 year old and 20 pounds. But don't be quick to switch the seat's direction after the 12-month mark: Research also reveals that it's five times safer for your 1-year-old to ride facing backward than forward. Given this, safety experts now recommend that you keep your toddler's car seat facing backward until he or she is at least 2 years old or has reached the height and weight limits for the seat's rear position.
Keep your vehicle clutter free
You don't want a lot of stuff littering your vehicle. Every item in your car becomes a potential projectile in the event of a crash. Take all heavy objects—like tools—and place them in the trunk, and snap unused seatbelts to their buckles to prevent them from flying around in an accident.
Reconfigure your car—and revise your coverage. Schedule an On Your Side® Review whenever you've had a change in your life to make sure your coverage is up to date.