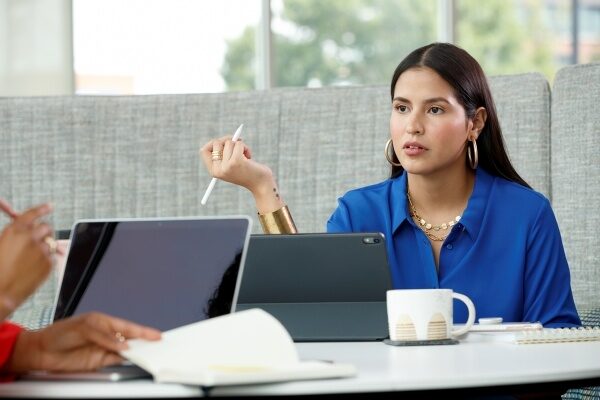 What is a business plan?
Whether you're starting a small business or exploring ways to expand an existing one, a business plan is an important tool to help guide your decisions. Think of it as a roadmap to success, providing greater clarity on all aspects of your business, from marketing and finance to operations and product/service details.
While some owners may be tempted to jump directly into startup mode, writing a business plan is a crucial first step for budding entrepreneurs to check the viability of a business before investing too much time or money. The purpose of a business plan is to help articulate a strategy for starting your business. It also provides insight on steps to be taken, resources required for achieving your business goals and a timeline of anticipated results.
In fact, businesses that plan grow 30% faster than those that don't.1
For existing small businesses, a business plan should be updated annually as a way to guide growth and navigate the expansion into new markets.
Studies show that nearly 71% of the fastest-growing businesses have business plans, indicating that even existing businesses can benefit from updating their plans.2
Your plan should include explicit objectives for hiring new employees, market analysis, financial projections, and potential investors. The objectives should indicate how they'll help your business prosper and grow.
Building an asset management business plan
Committing resources to capital improvements and new assets such as computers, software or cars/trucks is never an easy decision for budget-conscious small business owners. But a business plan can bring clarity to the process of whether to buy or lease and help determine the optimal amount allocated to those assets. A good business plan can also help you decide if it's feasible to take on additional office, retail or work space.
Creating a marketing strategy
Marketing and market potential are important aspects of a plan for aspiring small businesses.
Getting your business in front of customers on a consistent basis is one of the keys to ensuring your business not only stays afloat but also thrives.
Marketing strategies can be simple, but before you decide on how you will get the word out, getting clear on your target audience and why your business solves their problem can make sticking to your marketing plan easier.
Knowing your unique market positioning can help you determine your messaging. Your marketing strategy should include who your target audience is, the platforms or methods you will connect with them on, and a measurement framework to determine if your efforts are working.
Take entrepreneur Scott Sultzer, who opened Sandwich Joint restaurant in downtown Los Angeles in 2009. "I included the potential marketing demographic of all those who lived in a certain area of the city," he said of his marketing strategy. "My goal was to capture a certain percentage of all those people who lived and worked nearby."4
Created primarily as a marketing tool, Sulzer's 10-page plan included such topics as target market breakdown, marketing strategy and market penetration. "My business plan was mostly about market projections," he said. "How are we going to get those people that lead to an increase in our daily sales? And how are we going to reach them to let them know we're here?"4
Depending on your business, it's important to have both brick-and-mortar marketing strategies as well as a plan for marketing your business online.
Seeking investment for your business
In addition to providing a roadmap for progress and a marketing plan, your business plan could also be important in securing funding.
Whether you're seeking a credit line from a bank or an influx of capital from investors, a business plan that answers questions about profitability and revenue generation can make the difference between whether someone decides to invest – or how much they might choose to invest.
In fact, a study showed that businesses with a plan were more likely to receive formal financial support, such as funding, than businesses without one.3
Hiring the right talent
A business plan may also be needed to retain other professional services as well, such as attorneys, landlords, consultants or accountants. Sulzer used his business plan to secure a lease.
"I had to have a viable document that they could trust," said Sulzer, who leased from one of the largest landowners in downtown Los Angeles.4
"With a corporate landlord, they wouldn't deal with me unless I had a business plan. I had to submit all my information and a plan that presented what I wanted to do, with financial breakdowns and percentages, demographics, and how I was going to get customers."4
For a small business to succeed, attracting talented workers and partners is of vital importance. A part of a business plan for hiring employees is to help bring in the right talent, from the executive level to skilled staff, by showing them the direction and growth potential of the business. It can also help secure vendor accounts, especially with exclusive suppliers.
Setting business plan objectives for management
Finally, a business plan can be important in providing structure and management objectives to a small business. It can become a reference tool to keep management on track with sales targets and operational milestones. When used properly and consulted regularly, it can help you measure and manage what you're working so hard to create.
Ready to take the next step? Learn how to write a business plan.
Don't forget to consider insurance coverage in your business plan. When the unexpected happens, you want to make sure your small business is covered. Customized insurance solutions are crucial to protecting and keeping your operation going.
Find out how small business insurance from Nationwide can help you build and protect your business whether you are just starting up or already established.
1https://www.effectuation.org/wp-content/uploads/2017/06/The-Multiple-Effects-of-Business-Planning-onNew-Venture-Performance-1.pdf, Accessed October 2021.
2https://onlinelibrary.wiley.com/doi/abs/10.1111/0447-2778.00006, Accessed October 2021.
3https://www.tandfonline.com/doi/abs/10.1080/13504851.2014.967377, Accessed October 2021.
4Nationwide Interview with Scott Sultzer, 2016.
Disclaimer:
The information included is designed for informational purposes only. It is not legal, tax, financial or any other sort of advice, nor is it a substitute for such advice. The information may not apply to your specific situation. We have tried to make sure the information is accurate, but it could be outdated or even inaccurate in parts. It is the reader's responsibility to comply with any applicable local, state, or federal regulations. Nationwide Mutual Insurance Company, its affiliates and their employees make no warranties about the information nor guarantee of results, and they assume no liability in connection with the information provided. Nationwide, Nationwide is on your side, and the Nationwide N and Eagle are services marks of Nationwide Mutual Insurance Company. © 2021 Nationwide.