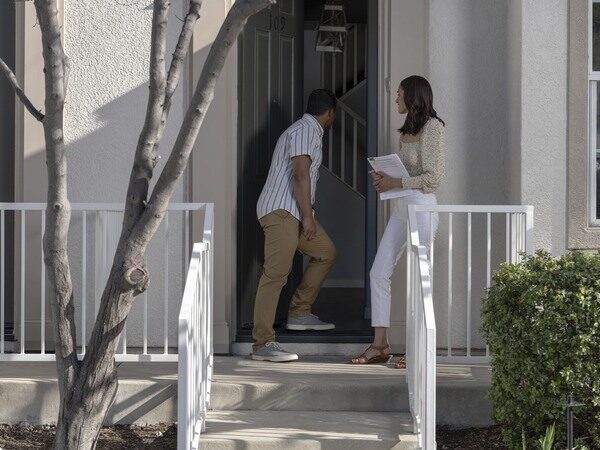 Going from renting an apartment to owning a home is a big step that can impact your finances and your lifestyle.
It's important to understand the pros and cons before making a decision, and you'll also have to weigh your needs. You may want more room and autonomy over your living space. Or you may prefer the conveniences of apartment living, particularly in a complex that provides many services and features, like gyms, pools or media rooms.
Here are four things to consider as you decide between a house or apartment:
1. Cost
Typically, when looking at buying a house, you'll compare the amount you would pay every month to the rent you're currently paying. But experts say that's just the starting point; part of your monthly mortgage is going toward paying off your interest.
For a more accurate comparison and calculation, deduct the amount that's going toward interest and compare it to your current rent; the interest is tax deductible.
Consider upfront costs when renting or buying. As a renter, you'll have to pay a deposit every time you sign a lease on an apartment. These range in amount, and they may not be refunded at the end of your lease. If you have a pet, you will probably have to pay a pet deposit, which may be non-refundable.
As a homeowner, you'll need to have enough money for the down payment, and you may also have to pay homeowners association fees, depending on where you live.
2. Maintenance
If you're a homeowner, the day will eventually come when you have to make a substantial investment to repair or replace something like a hot water heater, HVAC unit or appliances.
As a renter, you're not responsible for maintenance and repair of items that break down or wear out, so you'll never face that additional expense.
3. Flexibility
Renting and homeownership each come with their own kind of freedom and flexibility. If you're a homeowner, you can paint the walls whatever color you'd like, replace carpeting and reinvent the space in whatever way your budget allows.
As a renter, you don't have that kind of freedom, although you do have the mobility to move to a newer apartment with better amenities, or to a part of the city in which you take a new job.
4. Amenities
It's hard to compete with the kinds of amenities offered by apartment complexes today. They can include state-of-the-art gyms, saltwater swimming pools, tennis courts, dog parks, walking trails and more.
However, when it comes to space and storage, homeowners almost always win out. They have the advantage of such things as attics, garages and more closet space.
The decision to live in an apartment and a home depends on your needs, but either way you'll need protection from the unexpected. If you're opting for an apartment, see how Nationwide's renters insurance can protect your belongings. If you're ready to buy a home, homeowners coverage is your next step.