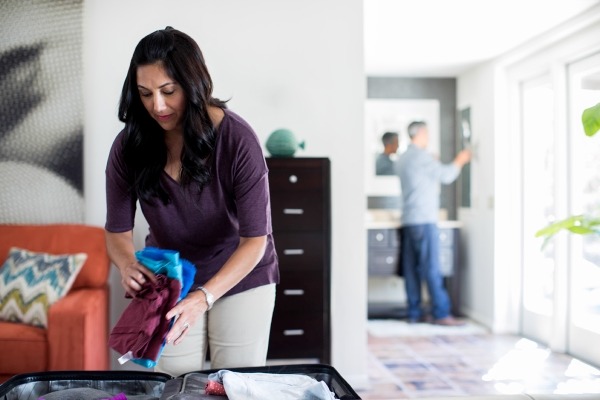 Traveling by train is as much about the journey as it is the destination. It's a throwback to gentler, slower-moving times when trains were the most common way of making long-distance trips. It allows you to relax and view some of North America's most spectacular landscapes, and there's also room to get up and move around.
In addition, train travel is suitable for everyone from young families to retirees. Plus, it's easy to pass the time, even when you're not looking outside.
Tips for scenic train rides
Before you check out some great routes, here are few tips to keep in mind for your train trip.
Plan your trip carefully: Choose a region that interests you, and remember that train travel usually takes much longer than road trips.
Pack with the weather in mind: You're going to disembark at some point, and the weather at your destination may be different than where you started; practical shoes and rain gear that easily compress in a bag or backpack are generally sound additions to a packing list.
Bring extra entertainment: Whether you're traveling with children or on your own, bring travel-friendly board games and books for those down times when the scenery isn't as captivating.
Carry snacks: Although many trains have dining or concession cars, it's never a bad idea to carry snacks and drinks. It can often be more convenient and can help you save money.
Include a guidebook: If you go electronics free, consider bringing a small guidebook; the history of some rail lines and the areas they cross can engage young listeners.
Arrive early: Some train stations are large and have multiple tracks; you want to give yourself enough time to comfortably board.
Train vacation ideas
Are you unsure where to start? Below you'll find six of North America's most scenic train trips.
Grand Canyon Railway
 This 130-mile round-trip train ride begins in the northern Arizona town of Williams, winding its way through a variety of landscapes. From ponderosa and pinyon pine forests to the high desert plateau, you can glimpse bald eagles, elk and maybe even a condor. Enjoy onboard entertainment as you traverse the San Francisco Peaks before arriving at the south rim of the Grand Canyon, one of the world's great natural wonders.
Denali Star
It's 360 miles from Anchorage, Alaska to Fairbanks, and the 12-hour journey via the Denali Star affords travelers close views of the wild and pristine landscape. The region is teeming with wildlife, so watch for moose, caribou and grizzly bears. Enjoy panoramic vistas from the train's double-decker dome cars, especially for a glimpse of North America's highest peak, Denali (formerly Mt. McKinley).
The Rocky Mountaineer
The trip from Vancouver, British Columbia, to Banff in Alberta, Canada, aboard the Rocky Mountaineer traverses otherwise inaccessible areas of the Canadian Rockies. The train winds along the Kicking Horse River, through the Spiral Tunnels and past Castle Mountain. You'll enjoy views of glacial lakes, black lava cliffs, dramatic canyons and few signs of civilization.
The Maple Leaf
Roll through the leafy and historic Hudson River Valley past the spectacular waterfalls and gorges of the Finger Lakes region on your travels from New York City to Toronto. A highlight of The Maple Leaf train journey is the stop at the magnificent Niagara Falls.
Cass Scenic Railroad
Located in the mountains of West Virginia's Cass State Park, this historic train is pulled by a steam-driven Shay locomotive along the same line that hauled lumber to Cass's mill in 1901. These days, passengers have replaced lumber in the logging flat cars for a more than four-hour round trip up the steep grade, ascending to the state's third-highest point at 4,700 feet. The views are even more spectacular in October when the forests are ablaze in autumn colors.
Durango & Silverton Narrow Gauge Railroad
Travel back to 1882 when this narrow-gauge railroad was built to carry mined silver along sharp curves and tight mountainside spaces. Pulled by coal-fired and steam-powered locomotives between Durango and Silverton in southwest Colorado, passengers can enjoy breathtaking views of mountain passes along the Animas River. The train is designated as a National Historic Landmark.
As with any trip, you'll need to protect yourself against the unexpected. That includes such things as lost luggage, accidents or even delays. Travel smart with travel insurance coverage from Nationwide before you pack your bags.