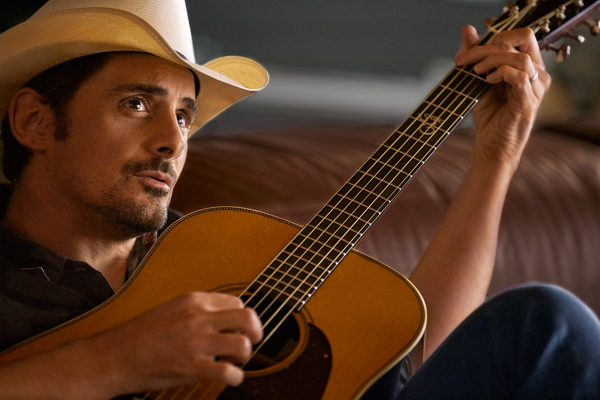 Brad Paisley is a critically acclaimed singer, songwriter, guitarist and entertainer whose talents have earned him numerous awards, including three GRAMMYs, two American Music Awards, 14 Academy of Country Music Awards and 14 Country Music Association Awards (including Entertainer of the Year), among many others. He has been a proud member of the Grand Ole Opry since 2001. Paisley has written 20 of his 23 #1 singles with the first being his 1999 hit "He Didn't Have To Be" and his most recent, "Perfect Storm," from his chart-topping 2014 album Moonshine in the Trunk. Paisley's current single is "Without A Fight" featuring multi-platinum artist Demi Lovato and is currently #24 on the Billboard country airplay chart and was Paisley's biggest radio add day of his career. His 2016 Life Amplified World Tour kicked off on May 19 and will travel across the US and Canada this summer, with more dates to be added. Paisley has partnered with Boot Barn® and developed an exclusive line of jeans, hats, T-shirts, jewelry, belts and woven shirts called Moonshine Spirit by Brad Paisley. He will return in 2016 for a ninth consecutive year as co-host of the CMA Awards with Carrie Underwood. Connect with Brad at www.BradPaisley.com, www.Facebook.com/BradPaisley, on Twitter @BradPaisley, on Instagram @BradPaisley, and YouTube at YouTube.com/BradPaisley.
Brad Paisley Nationwide Commercial – Songs for All Your Sides
https://youtu.be/USny2lbvrkI
Embed video: https://youtu.be/USny2lbvrkI
https://youtu.be/lbRmKzG6gGQ
Embed video: https://youtu.be/lbRmKzG6gGQ
"As a songwriter, the whole premise of there being more to the Nationwide jingle beyond those seven catchy notes is exciting," Paisley said. "It intrigued me right away."
View the Songs for all Your Sides Media Kit to get videos (including behind-the-scenes), photos, audio files, quotes and supporting materials.